APU is ten years old. We will celebrate the university's first decade from fall 2009 until fall 2010. The recurrent theme in all the events planned draw from APU's mission of freedom, peace and humanism and its commitment to nurturing future global leaders against the backdrop of a growing, dynamic Asia Pacific region.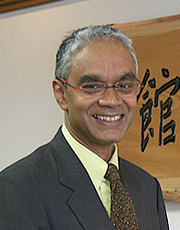 Today, the university boasts a student body comprising of international and domestic students approximately 100 countries and regions. The diversity of customs, the endeavors to foster mutual understanding and a dramatic commitment to realize one's dreams have created a unique campus environment. Furthermore, the university is increasingly engaged in global and regional development, both in Japan and overseas. The campus also thrives because of its voluntary spirit, which has worked to ease the pain of hardship and also brought joy and celebration to the lives of others. Despite a global recession, around four hundred of Japan's leading companies come to our campus to recruit our best and brightest and to date, APU has had 16 programs adopted by Japan's Ministry of Education, Culture, Sports, Science and Technology (MEXT) educational initiatives such as Good Practice*. Thus, although APU is a university of only 10 years of age, it enjoys a stature that belies its youthful existence.



These achievements are tribute to your continued support. Parents, alumni of APU and Ritsumeikan, citizens of Beppu and Oita, members of our Advisory Committee and Supporting Group of corporations, and all others who have helped us in this past decade, I thank you.
I will be finishing my term as President in December 2009 and taking up a new position as Vice-Chancellor of the Ritsumeikan Academy. In this role I will apply myself to the internationalisation of not only Ritsumeikan, but also of Japan. I sincerely hope you will continue to support APU and enjoy the program of events celebrating APU's 10th anniversary. With gratitude, let me toast to our lasting friendship. May the ties that bind us be forever strong! Thank you.
Monte Cassim
President, Ritsumeikan Asia Pacific University
Vice-Chancellor, Ritsumeikan
*This government program aims to spread outstanding and highly regarded initiatives to other universities.