講演・シンポジウム|来学者
Jan 25, 2010
On Tuesday, January 19th, Ministry of Defense Advisor MASUDA Kohei gave a special lecture in APS Professor FUJIMURA Kazuhiro's Special Lecture "Diplomatic Intelligence".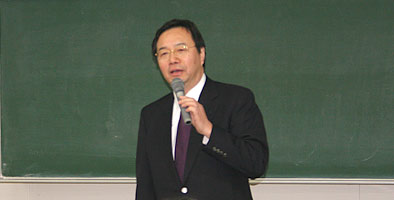 Since joining the Defense Agency (now the Ministry of Defense) in 1975, Mr. MASUDA has worked on the frontlines of Japan's defense sector. He has been involved in formulating several important projects including the National Defense Program Outline, the International Peace Cooperation Act and the Counter-Terrorism Special Measures Act. In his guest lecture, Mr. MASUDA drew on his personal experiences to discuss the current situation of the Ministry of Defense and the Self Defense Forces and covered a wide range of topics including the security climate in Japan and potential security issues the country may face in the future.

Approximately 200 students filled the room to hear Mr. MASUDA's lecture. After the lecture one student remarked, "It was extremely rewarding to hear a specialist like Mr. Masuda speak in person about various defense issues", while another student commented, "What I know about the Ministry of Defense is only what I see on television or read in the newspapers, but this lecture from someone on the ground was both persuasive and easy to grasp."

Held on the 50th anniversary of the signing of the Japan-US Security Treaty, this guest lecture surely provided students with some food for thought on Japan's defense and security.