On Thursday, January 21, 2010, a signing ceremony was held at the Oita Town Hall to mark the conclusion of a comprehensive cooperation agreement between Oita City and APU. In the past, Oita City and APU have enjoyed a cooperative relationship including the holding of Management of Technology (MOT) Lectures at the Oita City Industry Activation Plaza and APU student participation in a range of events and international exchange activities, and it is hoped that this agreement will lead to a further strengthening of this relationship.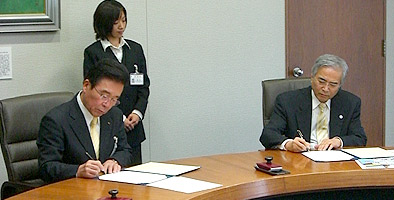 In attendance at the ceremony were Mayor of Oita City, KUGIMIYA Ban and APU President KORENAGA Shun who both put their signature on the agreement. Mayor KUGIMIYA commented, "the government has called for the `establishment of regional sovereignty' and the basic municipalities are faced with new interface with the central administration. We in Oita consider `citizen-cooperation' to be the core of City management and by concentrating our citizens' strength across a range of fields, we are deepening our friendships with cities around the world and pushing forward with unique urban develop initiatives. We are also working together on a range of initiatives with Oita City universities, and we hope that the local government can put the global characteristics of APU to good use". In response, President KORENAGA replied, "It is my great pleasure to welcome this Cooperation Agreement with Oita City – a city with so much history and culture – and I wish to express my appreciation to everyone involved. More than just a means to get to know each other, I hope this agreement will be the start of an ever deepening relationship."

As the capital city of Oita Prefecture, Oita City has a population of 474,064 (as of December 2009) and is blessed with an abundance of nature, numerous commercial facilities and a host of tourist spots including Oita Marine Palace "Umi Tamago" and the Mt. Takasaki Nature Park. Furthermore, the Beppu-Oita Mainichi Marathon will be held for the 59th time on Sunday, February 7, 2010.

APU was opened through the kind invitation of Oita Prefecture and Beppu City, and considers the internationalisation and revitalization of the region to be one of its central missions. APU has now concluded agreements with 14 municipalities and organizations both within and outside of Oita Prefecture including this agreement with the Oita City. Every year over 1000 students participate in exchange programs both in and outside the Prefecture and are making their contribution to the regional community.