On Saturday, January 9, 2010, thirty six members of the APU Karate Organization performed an ocean training dill and a beach-clean up at Oojuuki Beach, Oita City.



Now in its second year, the ocean training dill was performed together with members of the AKENO Training Hall, the karate training hall attended by their karate instructor, Mark POSSELIUS.

Approximately 100 members of the APU Karate Organization and the AKENO Training Hall took part in the drill. Thirty six students from APU participated including 32 international students from China, Brunei, Vietnam, Norway, Taiwan, and more, took part. After cleaning up the beach, the participants went down into the sea water and meditated, practiced their form and carried out their basic training. In spite of the bitter cold and crashing waves at their back, the training session proved to be a valuable opportunity for the wide range of karate fans of all ages to deepen their friendships with fellow Karate fighters from different training halls.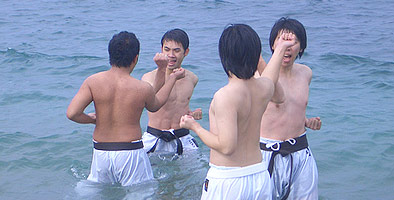 One of the participants, OTANI Yushi (APS4, Japan) who will graduate the coming spring, gave a few words of encouragements to his juniors, "It was quite a challenge to keep up my Karate over the last four years, but I was able to experience practicing Karate in the unique APU international environment. I hope my juniors continue to work together and further build up the APU Karate Organization".

Established in 2000 at the same time as APU, the APU Karate Organization currently has 44 members consisting of 36 international and 8 domestic students centering on the new team captain, NAKANO Tsubasa (APS2, Japan). Every year the organisation posts some great results including DONG Minh Tuan's (APM4, Vietnam) victory in the Men's Youth Kumite Division at the 31st Oita Prefecture Goju Festival held in May, 2009. The organisation plans to welcome former members to a special event to celebrate their 10th anniversary in autumn, later this year. Let's look forward to further great achievements by the APU Karate Organization.