On Sunday, January 23, 2009, the "2010 Spring Celebration" was held at the APU Cafeteria to coincide with the Chinese lunar New Year celebrations. Approximately 150 students and members of the local community came along to enjoy this opportunity for Sino-Japan cultural exchange.



In addition to a generous smorgasbord of Chinese cuisine was available at the Cafeteria, the crowd was treated to a performance of Tai Chi Chuan, a Lion Dance, a classical Chinese opera, and a rendition of "The Song of the Yellow River Boatman" by approximately 50 members of "Kagei" – a student circle introducing the culture of China through traditional performing arts. A raffle was also held in which participants won Chinese tea, hanging scrolls, calendars and more.

Representative of the performing student circle "Kegei" WEI Ruoxu (APM3, China) spoke of his aspirations for the future, "This year marks the 30th anniversary of the normalization of the relationship between China and Japan and we want to continue to send a message of Chinese culture from APU".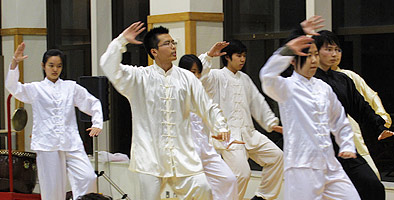 'Lunar New Year' marks New Year on the old Chinese calendar and is the most important of all days celebrated in China. As the celebrations are based on the old Chinese calendar, the date changes every year. Celebrations take place over a period of days in China, Taiwan and 'China Towns' throughout the world.