APU will mark its 10th Anniversary on April, 1, 2010 and has set aside eleven month period from October 2009, until September 2010 to celebrate the occasion. A range of events will be held as a way to express out appreciation to the many people who have given their support to the University.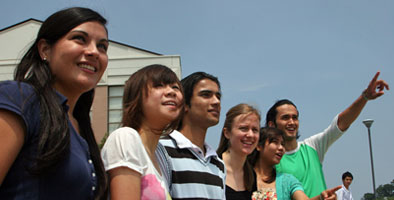 The APU 10th Anniversary website
was first opened in October, 2009. Together with a map showing the features of the APU campus, the website introduces upcoming commemorative events,
messages from the community
, a history of APU and more. People who access this site will also be able to download desktop wallpaper and anniversary logo images and read a blog of the daily events on-campus.
APU wants to hear your thoughts on the 10th Anniversary. Please tell us your impressions and memories of APU and your expectations for us in the next 10 years.
Please follow this link to the message input page:
http://www.apu10th.com/message/form/index.html
Please be sure to check it out!
The APU 10th Anniversary Commemorative Website:
http://www.apu10th.com/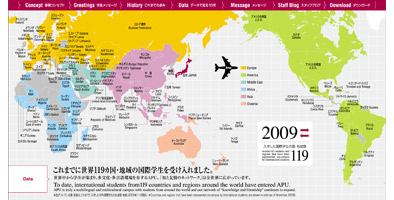 Taken from the APU 10th Anniversary website Data page