学生生活|講演・シンポジウム
Feb 9, 2010
On Friday, January 29, 2010, Mr. YAMACHIKA Yoshiyuki and four managers from around Japan in the food and beverage, tourism, apparel and entertainment industries delivered the "Job Offer Expert lecture in Beppu". Invited by the "Job Offer Expert lecture in Beppu Executive Committee" of third and fourth year APU and Oita Prefecture university students, this lecture was held for students currently going through the job-hunting process. Over seventy job-hunting Oita Prefecture university students attended the lecture and took advantage of this great opportunity to get advice on securing a job offer.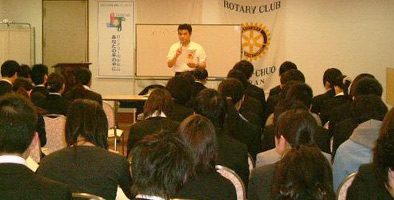 The lecture introduced the audience to job-hunting methods in the current fiercely competitive job market. Mr. YAMACHIKA spoke of the "bright, honest and positive-thinking" graduates sought after by businesses and advised the students of the importance of "managing your schedule and not rushing headlong into the job-hunt. There are many things to be learned from the movies, music and books and enriching your emotions is a good way to improving your people skills". One of the attending business managers gave the students a few words of encouragement, "It is often said that regional university graduates have a lower job-turnover rate so being a graduate of a regional university is no handicap in the job-hunting process."

Held for the second time, this event was also held in November last year and targeted students planning to graduate in AY2011. Vice-Representative of the Job Offer Expert lecture in Beppu Executive Committee, SAKAGUCHI Itsuki (APS3, Japan) spoke of how she participated in the previous lecture as a student and developed a new network with the lectures including Mr. YAMACHIKA, senior students who have gone through the job-hunting process and follow students from other universities, and has since been able to access a wide range of job-hunting information. Ms. SAKAGUCHI said her reason for taking part in the Executive Committee was to "I joined the Committee as a way to help our fellow students. I wanted to let students know where to begin in the job-hunting process – what kind of information and from where."

Executive Committee Representative OYAMA Takehiro (APM3, Japan) said "by holding a job-hunting event locally, I wanted to provide Oita Prefecture students with the opportunity to meet and talk to managers from further afield with as little financial burden on the students as possible" and encouraged the fellow job-hunters to "work together to overcome the slow job market".