On Saturday, January 23, 2010, APS Associate Professor, SASAGAWA Hideo gave a APU Public Lecture entitled "The other side to Romance: Things we've seen from the Relics of Cambodia and Angkor Wat" and looked at the complex relationships between culture and politics based on the Angkor Wat remains of Cambodia.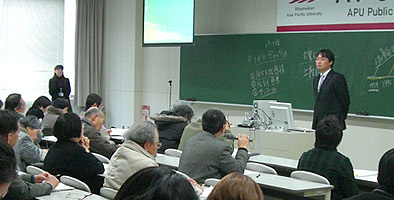 Associate Professor SASAGAWA, who took part in excavation digs as a university student, spoke of his initial romantic ideas towards such digs and the culture shock he received after noticing the complex relationships between the participating nation's ideology and political concessions, and their influence on such excavations. Furthermore, he mentioned that the common held conception that Angkor Wat was once prosperous is as a result of French colonial policy.

Bringing together the series of four lectures, Dr. SASAGAWA said that fully understanding ones own country and culture is difficult and cross cultural understanding even more so, "the first step to an understanding is to interact on a personal, not national, level".

APU has been holding Public Lectures since 1998 (before the university opened) as a way to contribute to local development and internationalisation – both considered by APU as missions of upmost importance. Four guest speakers were invited to the AY2009 10th Anniversary Commemorative Lectures under the theme of "Intercultural Understanding and Misunderstanding—Getting Lost in Southeast Asia". As a special memento, people who attended all four of the Public Lectures received a special completion certificate allowing them free use of the APU Library.

Please look forward to more details on the AY2010. More details will be made available on the APU homepage as soon as they are finalized.

APU Public Lectures Final Report (Japanese only)

Impressions from the audience (Japanese only)

Previous speakers and theme list (Japanese only)

NB: APU Public lectures are held entirely in Japanese. Therefore details on lecture content etc is only available in Japanese.
We apologize for any inconvenience.