On Saturday, February 6, 2010, the APU student circles "Wadaiko Raku" and "Mai Raku" delivered their 4th Joint Performance "KOBUSHI de DON" at the APU Millennium Hall. Many students and members of the Beppu community came along and enjoyed the powerful beat of the drums, the vividly brilliant dance and the refined tones of the flute.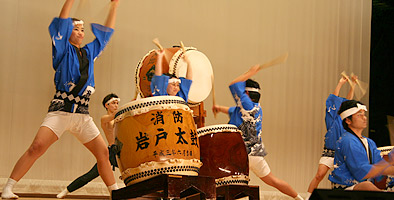 The theme for the event "KOBUSHI de DON" is a collaboration between the Japanese characters for drum (ko) and stage (bu) and expresses the collaborative nature of the event and the performers desire to all come together to put on a great show. The Japanese nuance also expresses some of the power and elevating energy of the stage performance.

Mai Raku adorned fine costumes and captivated the audience with their colourful and gallant performance of "Nanazumai" (a traditional dance passed down in Iwate Prefecture to give thanks at the year's harvest), "Oni-kenbu" (a traditional folk-dance of northern Iwate Prefecture) and more. Meanwhile Wadaiko Raku delivered a program of "oki-age" and "wind" and ended their performance on a high note with a rendition of "Tougen" – a piece which the group has performed since it was first established and expresses the simmering pools of Beppu's many hot-springs.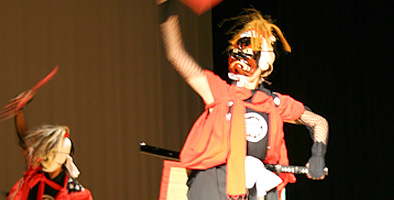 The audience members were provided with a performance program with handwritten letters of thanks from the performance members.

Looking back on the performance, group representative, KIMURA Shiho (APS3, Japan) commented on the show, "On behalf of the performers, I'd like to thank the many people who came along to see the show. It was a great success and everyone in the performance was able to show their individuality and uniqueness. I hope that our performance has been an inspiration and source of motivation for people to continue to work hard in their daily lives. If offered the chance, we would gladly travel anywhere in the world to perform and I ask for your continued support".

Wadaiko Raku was established in 2001 and currently has eighty members of whom almost 80% are international students – which gives the group a distinct international flavor. The group continues to be active performers both in Oita Prefecture and further afield including five over-seas performances. Established in 2003, the stage performance group Mai Raku was derived from Wadaiko Raku and currently has over thirty members of whom nearly half are international students. Our students continue to learn the Japanese traditional performing arts while based here in the Beppu region.
Reporter, Student Press Assistant (SPA): HOSAKA Ryosuke (APS2, Japan)