On Thursday, February 18, 2010, Usa City Mayor KORENAGA Shuji visited APU and enjoyed a discussion with APU President KORENAGA Shun and Vice-President HONMA Masao.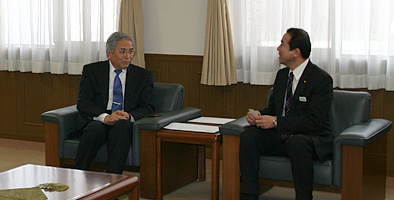 Usa City and APU continue to develop strong international and academic ties. In December, 2009 the two parties concluded an Exchange Agreement and began climate change research in an Ajimu vineyard in October, 2009. This meeting was Mayor KORENAGA's first visit to APU since KORANAGA Shun took over as President and provided an opportunity to strengthen their relationship. Mayor KORENAGA expressed his interest in a cooperative relationship between APU and Usa City tourism administration.

President KORENAGA reaffirmed his intention to actively engage with Usa City, "Usa City has a number of important historical treasures and I am sure that our university and the Usa City administration can push forward with joint tourism research making use of these historical assets".

With a population of approximately 62,000, Usa City was formed in March 2005 with the amalgamation of Usa City, Ajimu City and Innai Town. Situated in northern Oita Prefecture, the City is well loved by people both within and outside the Prefecture for its historical heritage sites such as USA Shrine, Tozai Temple, Heishi stone monument and green tourism which makes use of its abundant nature full of variety from the coast, the mountains and plains.