講演・シンポジウム|来学者
Mar 16, 2010
On Wednesday, March 3, 2010, Dr. Rob PHAAL, a Senior Research Associate at the University of Cambridge Centre for Technology Management, delivered an RCAPS* Seminar under the theme of "Strategic Roadmapping – Aligning technology, products and markets for strategy and innovation". At the invitation of APM Professor NAMBA Masanori, Dr. PHAAL delivered a detailed presentation on strategic roadmapping and its application in businesses and other organisations.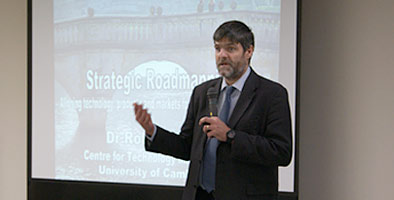 Dr. PHAAL illustrated the function of roadmaps as a "lens that provides a common visual language for strategy and innovation". Combining the perspectives of all stakeholders including commercial, developmental, technological and governmental, roadmaps seek to provide a clear visual "map" to help a business, organisation or sector successfully navigate its way through developmental obstacles and open the path to "where the company or organisation wants to be".

After a brief look at the history of roadmaps, Dr. PHAAL described the four essential ingredients to successful workshop-based roadmapping as, "getting lots of post-it notes, pens, a big chart to write on, and most importantly, all the right people in the same room at the same time". He then presented a few examples of roadmaps from Panasonic, Sony and the UK Ministry of Defence.

In the second half of the seminar he introduced current research underway in the field of roadmapping, including their use as a means to navigate the process of industrial emergence. Using the example of the development and commercialization of the digital camera, Dr. PHAAL suggested that by "understanding the dynamics of industrial emergence, we can gain a better understanding of how to successfully navigate the 'Valley of Death'* stage of the science-to-industry trajectory".

The seminar was well received by the large audience including local businessmen who took advantage of the opportunity to hear from an authority in the field of strategic roadmapping.

*The Ritsumeikan Center for Asia Pacific Studies (RCAPS) was established in July 1996 with a mission to promote and foster research into the multifaceted developments and challenges that face the Asia Pacific region in the 21st Century. RCAPS seminars are held regularly at which lecturers from both on and off-campus are invited to share research findings in the field of Asia Pacific Studies.
RCAPS website: https://www.apu.ac.jp/rcaps/

*Valley of Death
A term used in funding of science-based innovation, referring to the period of time from public funding of science to commercial generation of revenues. During the Valley of Death many firms fail due to being unable to overcome this difficult time of insufficient funds before income reaches sustainable levels.