教育プログラム|学生生活
Mar 16, 2010
The Tourism and Hospitality Institute (THP) was established at APU and aims to produce graduates suitable for the service and hospitality industry through its policy and strategy focused curriculum based on a fusion of tourism and management studies.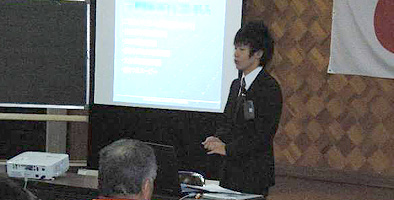 Members of APS Professor OKADA Toyokazu's "Tourism Development as a means to solve Regional Issues" Seminar, IKENAGA Sosuke (APM3, Japan), SUZUKI Tamao (APS3, Japan), MATSUMOTO Yuki (APM3, Japan) and YOSHII Atsumi (APS3, Japan) have travelled to their designated research municipality and presented their tourism development plans.




Under the title of "Solving Regional Issues through Tourism Development utilizing contemporary industrial heritage" and speaking to the Hita City Nakatsue Village Revitalization Bureau, Mr. IKENAGA presented his tourism proposal to utilize the Taiokinzan Goldmine as a tourism resource with its rich history and local stories. Ms. SUZUKI spoke delivered her plan under the theme of "The Revitalization of Tomisato City – home of Horse Bloodstock" to the Tomisato City Town Hall (Chiba Prefecture) and proposed reestablishing the City's long history as a centre for the horse bloodstock industry by recreating the "wild horse chase" of the Edo Period.




Mr. MATSUMOTO delivered his plan to the Matsuyama City Town Hall (Ehime Prefecture) and proposed that the City should take advantage of their high success rate at the Koshien National High School Baseball Championship to promote student exchange with strong high school baseball teams from neighboring Asia-Pacific nations to take part in training and practice matches. Under the research theme of "Music and Home-coming" and based on questionnaires of participating wind orchestras and the local community, Ms. YOSHII presented her proposal for the improvement of the "Sound Tourism" regional revitalization projects through music currently underway by the Bungo Takada West Kunisaki Chamber of Commerce and Industry.

Many municipal leaders, members of local cambers of commerce and industry and the local community came along to hear these presentations and engaged in lively exchanges of opinions on the respective projects prospects for realization. The proposals and high levels of student enthusiasm and originality were well received by the audience.