連携事業|講演・シンポジウム
Mar 26, 2010
On Tuesday the 16th and Wednesday 17th of March, 2010, a two-day training session was held at APU in collaboration with Akita International University (AIU). Focusing on the globalisation of Japanese higher education, this training session provided an opportunity for Japanese domestic university staff to develop their skills and knowledge, and share their university management know-how.



The training session was kicked-off by a key-note speech by former-APU President and current Vice-Chancellor of Ritsumeikan University (in charge of International Affairs) Professor Monte CASSIM, who suggested that, "it is vital for the future development of Japan that we work together with our neighboring Asian nations and develop side-by-side. Japan is faced with a declining student population, universities are struggling to reach their student intake capacity and many are being confronted with the threat of down-sizing. We need to consider these arguments keeping in mind the global demands for higher education. There is a saying in Japan that `the nail that sticks out gets hammered down' meaning that those who stand-out in their field will be pushed back down. I hope that we can work together towards university internationalisation with a mutual spirit amongst faculty staff members to encourage and extend our outstanding students and an education system accepting of students with different cultural, linguistic and religious backgrounds. Japan has a great education system so let's make it known throughout the world".

During the workshops that followed, APU and AIU staff members delivered lectures on the practical skills and know-how APU and AIU have developed in the field of university internationalisation such as the acceptance of international students, systems to allow students to gain a degree entirely in English, and the creation of an on-campus international learning environment. The program included campus tours led by APU students and group discussions which provided participants the opportunity to hear first-hand from APU students about their campus life and also the opportunity for university faculty staff to share issues they are facing and exchange opinions.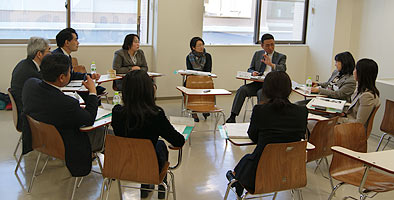 A total of seventy-five participants took part in the program from forty-seven universities and foundations. Many participants commented at the conclusion of the program, "I hope to put to good use the leading examples APU and AIU have provided through this training course in my future work. I look forward to the next training session focusing on exchange student support". Another participant commented, "In addition to the training sessions, I was able to develop a network and share opinions with university staff with a mutual understanding of the issues we face."

It is hoped that through these training sessions a network of like-minded people can be created and that through this network we can promote exchange and further strengthen cooperative ties.

This training program was made possible trough the cooperation and support of the following organisations:
Support: Sophia University, International Christian University, Waseda University School of International Liberal Studies, the Japan Network for International Education JAFSA (the Japan Foundation for Intercultural Exchange)
Backing: MEXT, the Japan Student Services Organization (JASSO), the Japan Association of Public Universities