On Friday,April 2, the 2010 Professor Emeritus Title Conferral Ceremony was held at the B-con Plaza Convention Hall in Beppu City. The ceremony took place prior to the Spring Entrance Ceremony and recognized Professor HATADA Nobuyuki's 10 years of educational and research service to the University. The title of Professor Emeritus was conferred by President KORENAGA Shun.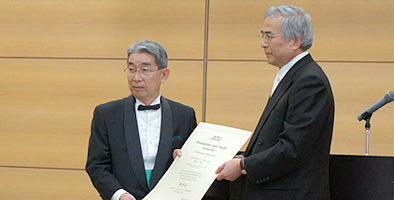 Professor Emeritus HATADA has been with APU as a Professor at the arning program. His educational research efforts have also contributed greatly to theCollege of Asia Pacific Studies since the University first opened and has made an enormous contribution to the development and implementation of the Global Active Le local community and the promotion of the long-stay tourism style.
The title of Professor Emeritus is conferred in accordance with the Ritsumeikan Asia Pacific University Professor Emeritus regulations to those who have achieved outstanding education and/or research results for the university. Professor HATADA is now the sixth APU Professor Emeritus.
The title of Professor Emeritus has previously been awarded to:
1. SAKAMOTO Kazuichi, Professor Emeritus
2. JIDO Yuji, Professor Emeritus
3. KOHGA Mitsuhide, Professor Emeritus
4. OGATA Masakatsu, Professor Emeritus
5. FUKUI Hayao, Professor Emeritus