From Monday 19 until Friday 23, April, 2010, the APU student event group "Heart for Haiti" is holding a charity relief event for those affected by the massive earthquake that struck Haiti earlier in January.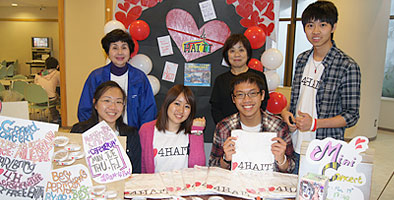 The event has been organized by approximately 20 student volunteers led by Ray Samuel (APM3, Indonesia) who aim to send a message of support not only as APU students but also as members of the international community to the many people in Haiti having to cope with a slow-passed recovery and impoverished living conditions.

An opening concert was held at the APU Cafeteria on the 19th and featured performances by three groups that came together for this event and were well received by the crowds. TSUNEYOSHI Kumiko of the UNICEF Japan Miyazaki Branch delivered a speech in support of the aid event and gave an introduction of the UNICEF relief efforts underway in Haiti.

"Heart For Haiti" group representative, Ray Samuel, commented on the relief efforts, "This massive earthquake made me aware of just how poor the conditions are in Haiti and we've been planning for this event for the last two months. We decided to sell charity T-shirts and wrist bands, and hold a charity concert instead of a donation appeal so that we could leave something tangible behind from our relief efforts. It is impossible for us to experience first-hand the pain and terrible conditions people in Haiti are facing, but I hope that with everyone's help, we can send a collective message as students through singing and talking together."

The "Heart For Haiti" wrist bands and T-shirts are on-sale until Friday at the APU Cafeteria. The Charity Concert will be also held on the evening of Friday 23 at the APU Millennium Hall.
We hope to see you there!

Sale of charity merchandise:

Time:Monday 19 Friday 23. 10:00 16:00 (no sales on Wednesday)
Venue:Booth at APU Cafeteria
Content:Original T-shirts 500yen, wrist-bands 500yen, photos and video images of conditions in Haiti

Charity Concert:

Time:Friday, April 23. 18:00 19:30 (doors open at 17:30)
Venue:APU Millennium Hall
Entry:Free
Audience members must have either the charity T-shirt or wrist-band to get in.
These will also be on-sale inside the Hall lobby.
Program: Band performances by 5 APU and local groups.