On Saturday, April 10, 2010, the "Pica Pica Welcome Festival" was held at APU and welcomed a large number of current and new students, their parents, and guests who gathered to enjoy a range of student initiatives and events before the start of the new semester.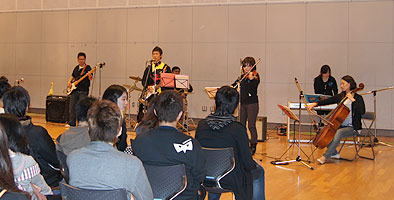 The Pica Pica Festival was organized by the APU "Base Event" festival committee and aimed to create a welcoming atmosphere for current and new students to interact and get to know one another. This annual festival also offered new students the opportunity to familiarize themselves with the APU campus and provided information about the different extracurricular-activities and groups available here.

In stark contrast to the beautiful weather enjoyed last year, the festival was challenged with misty and windy conditions. This proved no dampener, however, on the students' spirits as they managed to put on a number of colourful performances by student circles, ethnic food stalls and a student flea market. In addition, photo exhibitions were also held by the student circle PRENGO, a Japanese tea ceremony by the APU tea club, an international trading game by the Model United Nations circle, and an exhibition performance by the APU Men's Lacrosse team.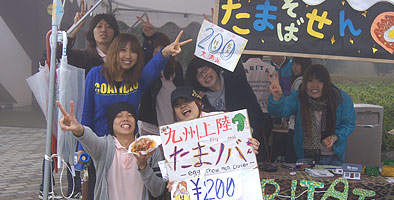 Base Event representative OTA Haruna (APS2, Japan) spoke of her goals and aspirations for the event, "We wanted this to be an event in which the new entrants, full of doubt and expectations, could enjoy themselves. Seven of us began the preparations at the end of last year and we were able to make a success of the event thanks to the enormous support we received from our staff and the participating organisations. I hope that we can make use of this experience as prepare for, and try to make a success of, the upcoming Tenku Festival with the addition of our new students as the 'New APU Base Event'".
Reporter, Student Press Assistant (SPA): Joshi Ratala Dinesh Prasad (APS3, Nepal)