On Monday, March 29, 2010, English Junior Lecturer at the APU Center for Language Education, Simon P. BAHAU served as interpreter for his Prime Minster, Sir Michael SOMARE during the Japan-Papua New Guinea Prime Ministerial Talks.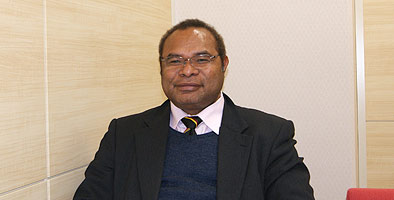 This official visit to Japan by the Prime Minister of Papua New Guinea, Sir Michael SOMARE, aimed to further strengthen ties with Japan towards the advancement of liquefied natural gas (LNG) developments in Papua New Guinea. The official entourage included approximately 70 government officials including the Prime Minister and the Ministers for Foreign Affairs and Internal Affairs. At the request of the Embassy of Papua New Guinea in Japan, Mr. BAHAU accompanied the group during their stay in Japan and played an important role for Japan-Papua New Guinea diplomacy. Looking back on the meeting, Mr. BAHAU said, "Had it not been for the MEXT scholarship, I would not be here in Japan. Therefore, it is a great honor to be able to contribute towards the strengthening of the relationship between Japan and my home country".
A native of Papua New Guinea, Junior Lecturer BAHAU came to Japan in 1983 under the auspices of the former Ministry of Education, Science and Culture's "Plan for 100,000 Exchange Students". After completing his studies at the Japanese Language School attached to the Tokyo University of Foreign Studies, Mr. BAHAU went on to study at Oita University before entering APU in February 2000 as an administrative staff member. Among other things, Mr. BAHAU was also involved in the translation of the APU Opening Declaration. Following this, he took up his current post as an English lecturer and began pouring his efforts into improving the English language skills of both domestic and international students.
Furthermore, Mr. BAHAU sees it as one of his missions in Japan to strengthen the relationship between his native country and Japan. At the request of the Embassy of Papua New Guinea, he also actively supports his fellow countrymen who have come to study in Japan by introducing their culture and language through interchange with the local communities.