教育プログラム|連携事業
Apr 28, 2010

On Wednesday, April 21, 2010, an opening ceremony to mark the start of the Iwata Academy APU/Ritsumeikan Course APU Lecture 1 was held in Building H. Ritsumeikan University, Ritsumeikan Asia Pacific University and the Iwata Academy (Oita City) signed a university-high school liaison agreement in May 2007, which resulted in the establishment of the Iwata Academy APU/Ritsumeikan Course.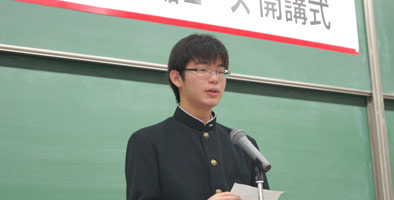 Students in the Iwata Academy APU/Ritsumeikan Course study consecutively from junior high school, high school through to university with the aim of nurturing Oita's internationally-minded talent. Now in its 3rd year, the program welcomed 14 new students who will study courses designed jointly by the Ritsumeikan Trust and Iwata Academy.

At the opening ceremony, APU Pro-Vice President, Prof. Edgar PORTER addressed the students and offered some heartening advice, "While you are here in our global village of APU, please take full advantage of our teachers and students and make them a model and for your success in the future". Following this, an Iwata Academy student representative MIYAZAKI Hajime offered a positive response, "I am very grateful to be able to take part in this program. In the future, my classmates and I will do our best and are looking forward to interacting with the international students, the teachers and teaching assistants (TAs)".

The ceremony was brought to an end as an Iwata Academy student representative was presented with their APU/Ritsumeikan Course library ID card by APU Vice-President HIRATA Junichi. Following the ceremony, the Iwata students were soon able to get a sense of the APU international atmosphere as they enjoyed a number of events planned for them including a reception in the cafeteria, a campus-tour, and AP Language introductory classes.
Student Press Assistant, Virgi Agita Sari (APM3, Indonesia)