On Saturday, May 15 and Sunday, May 16, 2010, the "Golden UN Camp 2010" was held by the APU Model United Nations in the APU Multipurpose Hall. Now in its third year, this camp aims to increase students' awareness of international political issues by experiencing real-life simulated UN meetings.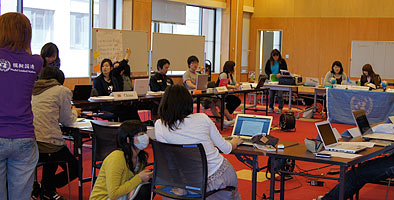 The participants of this model UN Camp took on the roles of foreign ambassadors and simulated actual United Nations conferences. This year, the chosen topic was "The Democratic People's Republic of Korea: The Impact of Nuclear Missiles on World Security". The participants discussed the issues surrounding this topic, and the decision process towards its resolution. Students from Japan, Mongolia, China and Korea took part in this conference.

"By participating in this event, I hope students can understand more about current international relations and security issues," said Circle Representative and meeting  supervisor, MORI Ayaka (APS2, Japan). "We also learnt how countries around the world interact with each other to make international decisions" she added.

JO Seongmoon (APS1, Korea), a first year student that participated in this event for the first time, spoke of his impressions, "This kind of conference helps me to know more about recent political issues and the role of the UN and NGOs in international relations".

The Model United Nations dates back to 1923 at Harvard University. In Japan it has developed since 1983 under the guidance of OGATA Sadako (former UN High Commissioner for Refugees on the Human Environment). High schools and universities around the world are involved in the Model United Nations as part of an effective educational program to understand the workings of international politics and think about how to solve problems facing the world. The Model United Nations has adopted the development of human resources who can make a contribution to international society as one of their central philosophies and in fact, many graduates have gone on to work in organisations similar to the United Nations. Furthermore, it is gaining greater recognition for its role in society and in 2008 was awarded the Minister of Foreign Affairs Award.
Reporter, Student Press Assistant (SPA):RAZ Arisyi Fariza (APM4, Indonesia)