On Tuesday, May 11, 2010, the student circle "International Bureau OASIS" held their "3rd International Conference" with the aim of discussing the establishment of a Student Council. Under the theme of "Multicultural Environments and Exchange in APU", this conference featured lively discussions among the approximately 30 international and domestic student participants about student-exchange at APU.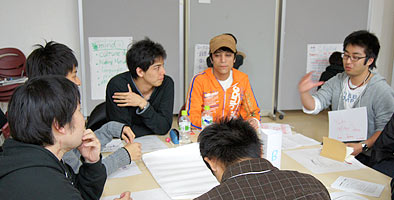 International students make up nearly half of the student population at APU. In addition to regular classes, international and domestic students take part in a range of extracurricular and exchange activities such as Multi-cultural Week and Multi-cultural Camp. Through friendly competition, our students are working to develop their mind and spirit with a deeper understanding of each other. However a number of students, in spite of having the motivation and intentions to engage in interaction and exchange, raised the issue of language as a barrier to communication during last year's "2nd International Conference". This year's International Conference was held in the hope of promoting inter-student exchange, identifying issues and discussing way to solve them.

A number of opinions were raised in the lively discussion such as, "many students aren't motivated to interact", "language is a barrier to communication" and "there are exchange events, but we never hear about them". A number of ideas were raised as possible solutions such as an "English only day", "we need to make better use of the Language Lounge" while other student suggested the "importance of providing opportunities for interaction and also making students aware of these opportunities" and the need for "casual events where we can deepen our friendships". Other students asked some straightforward questions such as, "If you're going to back off from interaction and exchange just because of a language barrier, then why did you come to APU?"




OASIS Representative TOMINAGA Eriko (APS3, Japan) commented on the event, "We set a theme for this international meeting that we thought would attract a lot of student attention. We hope to reflect on the opinions we gathered through this meeting and work towards the creation of a campus environment where our students, both international and domestic, can interact and exchange".

International Bureau OASIS began in autumn 2005 with the view to establishing a Student Council under the philosophy of "Making an even richer campus by utilizing the international flavor of APU". With approximately 20 international and domestic students, Oasis is working to make use of the students' voice to make APU an even better university.

In addition to last year's 2nd International Conference and a mini-Multicultural Week stage performance to mark the APU 10th Anniversary at the Tenku Festival, international students have been actively engaged with the Junior Chamber International – Beppu (JCI) to plan and manage a number of events both on and off campus.

Thoughts and opinions raised by Conference participants will be reflected in future OASIS proposals, events and more.

"International Bureau OASIS" is on Twitter. Be sure to check them out at @ib_oasis.
Reporter, Student Press Assistant (SPA):
ISSHIKI Kosuke(APS4,Japan)