From Monday May 24 until Friday, May 28, 2010, the APU 10th Anniversary AC Thanksgiving Week was held on the APU campus. Held to express the university's gratitude to the Advisory Committee* (AC) and its many members who have provided their support to APU over the last 10 years, the Thanksgiving week also provided the opportunity for APU to receive advice as it prepares to enter its second decade.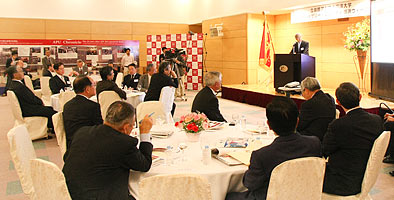 Over the five day event, the many participating AC members were warmly welcomed onto the campus by university executives including Chairman of the Board of Trustees, NAGATA Toyo Omi; Chancellor of the Ritsumeikan Trust, KAWAGUCHI Kiyofumi; founding APU President SAKAMOTO Kazuichi, and current APU President, KORENAGA Shun. In addition, the participating AC members met and interacted with APU students from a range of academic fields, enjoyed a guided tour of the campus, and observed a number of lectures. AC members were also offered the opportunity to enjoy lunch together with students at the cafeteria and get a taste of the international APU environment first hand.

On Friday, May 28, the final day of the proceedings, President KORENAGA spoke of APU's next steps forward, "APU has received an enormous amount of support from the Advisory Committee since it first opened its doors. Over the next ten years, APU aims to become the benchmark for international universities throughout Asia, further improve our culturally and linguistically diverse campus, and provide an even better curriculum to our students".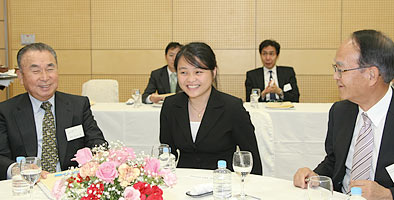 We would like to take this opportunity to express our gratitude to the many members of the Advisory Committee for taking the time out of their busy schedules to come to APU.

Please click here for a list of AC members who attended.

*The Advisory Committee
Established before the university opened, the Advisory Committee aims to provide multifaceted support to the University and currently has 319 members (as of January, 1, 2009) including former heads of state of nations around the world, ambassadors, and leading figures in the Japanese business and economic circles. The Committee continues to make a range of contributions to the development and enrichment of study and research at APU.