On Sunday, May 23, 2010, Minister Counselor (Education) of the Royal Thai Embassy in Japan, Mr. Warin Sukcharoen, visited APU and delivered a lecture to approximately seventy of APU' Thai international students.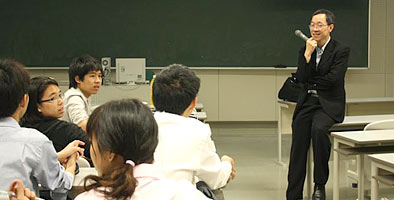 Counselor Warin visited APU as part of his journey to see Thai students studying at Japanese universities and gain a better understanding of their current state and the problems that they face, which was also the theme of his lecture. Counselor Warin mentioned data on the number of Thai students currently studying in Japan, their region of origin, their study major, and also mentioned episodes from when he himself was an exchange student to Japan.

During the lecture, Counselor Warin gave his impressions of the Thai students he had met, "Generally speaking, Thai students produce good results and are easy to get along with. On the other hand, I have noticed that they tend not to ask questions during lectures". He suggested that this is a reflection of Thai culture and the education they received in their home country. Furthermore, Counselor Warin gave his impressions of Japanese people as generally "hard working, show respect to their elders, and are very punctual".

Counselor Warin answered a number of questions raised by the audience such as the career paths of previous Thai students in Japan and his role at the Thai embassy. Counselor Warin generously offered his own time at the end of the lecture to answer the students' questions.

The lecture was well received by the many Thai students who attended. One such student, LAUEBOONCHU Patarapon (Thailand APM4) gave his impressions, "This was a great opportunity to hear from Counselor Warin, himself a former exchange student to Japan, and I could really relate to his speech. I am delighted to see that members of the Thai government taking such an interest in us and as a student studying in a foreign country, it is a great source of strength".

Counselor Warin offered his praise to APU and commented, "Students appear to get along very well and the fact that lectures can be taken in English removes many language barriers. APU is home to the highest number of Thai students in Japan and I have been very impressed".