On Monday, June 7, 2010, the 1st Multicultural Week for AY2010, "Chinese Week", got underway.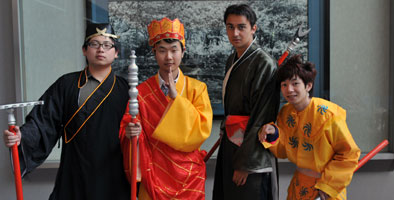 Every year at APU where students from 98 countries and regions come together, we hold Multicultural Weeks to introduce and throw the spotlight on the culture and languages of these countries and regions. During the week there will be an array of Chinese gourmet cooking available at the Cafeteria, the opportunity to try traditional Chinese Calligraphy and free Chinese tea tasting.

Under the theme of the "Adventures of the Monkey God", this year's Chinese Week will feature display booths at the Cafeteria introducing us to the many different cultures the characters encounter on their adventures and travels. Meanwhile, the Grand Show will feature students dressed up as "Genjo Sanzo" and his party and will introduce us to the different cultures they encounter throughout China on their journey towards India. We hope to see you there!





Schedule for "Chinese Week"


Monday, June 7 – Friday, June 11, 11:00-16:00 @ Cafeteria
"Adventures of the Monkey God" Introduction to the cultures they visit on their travels (Chinese calligraphy, Chinese tea tasting, traditional handicraft displays, etc)

Thursday, June 10, 12:10 – 12:25 @ in front of the fountain
Chinese lion dance performance
*Lion performance by approximately 50 students (anyone can join in)

Friday, June 11, 18:30 – 20:30 (Doors open at 18:00) @ APU Millennium Hall
Grand Show "Adventures of the Monkey God"
Program: traditional musical performances, "Thousand-armed Goddess of Mercy" performance, Lion Dance performance, martial arts display, and more!


*The participating countries for the Spring 2010 Multicultural Weeks are as follows:

Monday, June 7 – Friday, June 11: Chinese Week
Monday, June 14 – Friday, June 18: Vietnam Week
Monday, June 21 – Friday, June 25: Korean Week
Monday, June 28 – Friday, July 2: Indonesian Week
Monday, July 5 – Friday, July 9: Myanmar Week
Monday, July 12 – Friday, July 16: Thai Week

APU currently has 655 students who speak Chinese as their mother tongue (as of May 1, 2009). Furthermore, in addition to providing the Language Center and engaging in the teaching of Chinese as one of the languages of the Asia Pacific region, the on-campus Confucius Institute also actively provides students and people of the community with the opportunity to study the Chinese language and culture.