On Sunday, May 16, 2010, the APU Igo circle placed second at the Kyushu College Igo Spring League Tournament held at Kyushu University. This is a great achievement for the APU Igo circle in only its second year.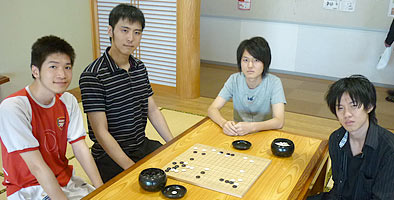 The Spring League Tournament saw teams of five players from each of the competing universities face-off in a round robin. Making up the APU team were MUROZONO Kosuke (APS, Japan), CHOI Han Saen (APM, Korea), IKEGAMI Jun (APS, Japan), Zeng Guan (APM, China) and KIJPANICH Assawin (APS, Thailand).

The team chalked-up some great victories through their characteristic teamwork. Although going down in the final game to Kyushu University, they left a great impression on the opposition teams and managed to achieve a great result in this there first ever appearance in the tournament.

Igo Circle representative, Mr, MUROZONO commented on the result, "We are thrilled with placing 2nd in our very first appearance at the Kyushu tournament. Matching our skills with our opposing veteran teams has also built up our confidence greatly. Depending on our performance at the upcoming autumn tournament, we might even make the national all-Japan tournament which is a great motivation for us to improve our skills further".

Founder of the APU Igo Circle, IKEGAMI Jun (APS, Japan) also commented on the great result, "I'm very excited that we placed second in this our very first appearance. It's a result that would never have crossed my mind when we first established this club two years ago. Most of our members are still in their first or second year so we can look forward to more great results next year and beyond. I wish to thank the many APU students who were involved in the establishment of this circle, everyone at the local Igo clubs, and of course, my team members".

The APU Igo Circle was created in 2008 and currently has 17 members including 7 international students who continue to work hard on and off-campus to ensure their success in the upcoming autumn tournament and secure a spot at the national all-Japan tournament.

* The Igo Circle is currently recruiting new members. People interested in joining are invited to come along.
The group practices in the Japanese style room on the 2nd floor of the Student Union Building and meets 6 & 7th period on Mondays and 3 & 4th period on Wednesdays.