On Saturday, May 22, 2010, members of the APU Rugby Club took part in a joint training session with the Ritsumeikan University Rugby Club at the Biwako-Kusatsu Campus (BKC) rugby ground. This was the APU Rugby Club's first trip to the Kansai area since its establishment.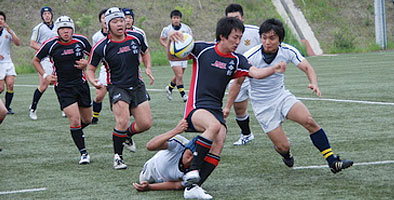 This joint training camp was held to improve the skill level of players and their team organizational skills. APU Rugby Club advisory technical coach SAKAI Takeshi and former APU Rugby Club member, HONDA Kosuke (Grad'08, APM) also took part in the tour. Although up against a tough opponent, the team put in a determined effort that included international students James Scott ASHWOOD (APS, Australia), Lawrence B. MOSOSI (APS3, Kenya), and domestic students HIURA Takafumi (APS3, Japan) and MINAMI Hiroshi (APM2, Japan).

Following the match, coach of the Ritsumeikan Rugby Club, YOSHIDA Yoshinobu, gave his impressions of the APU team, "I saw a very positive attitude in the APU players – perhaps the most important aspect of any team – and I see the makings of a strong team. I hope that our teams will continue to meet like this in the future". Representative of the APU Rugby Club, ONO Ryota (APM3, Japan) spoke of his aspirations for the future, "This was our first practice match with the Ritsumeikan University Rugby Club. Not only was it an opportunity to improve our technical skills, but it also improved our team unity. I hope to make use of this experience in the future."

On the following day, the APU Rugby Club went along to the Nishikyogohu Stadium (Kyoto City) in support of the Ritsumeikan University Rugby Team which went up against Chuo University and cheered the team along in the rainy and slippery conditions.

Established in 2002, the APU Rugby Club has been posting solid results since the arrival of SAKAI Takeshi as technical coach and advisor in 2007. A veteran of all-Japan level college rugby, Mr. SAKAI was instrumental in the club's successful promotion. Let's look forward to great things in the future from the APU Rugby Club.