On Sunday, May 30, 2010, the Beppu Clean-up Program was carried out by APU students, staff and faculty members, and members of the "APU PRESS" team who, in collaboration with Oita Godo Shimbun newspaper, were involved in the publishing of the recent 10th Anniversary Special Feature that was circulated throughout Oita Prefecture.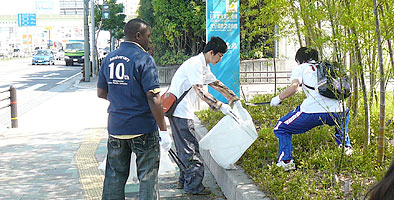 A total of 22 APU students and staff participated in the effort to clean the areas around Kyomachi, Beppu Spa Beach, Beppu Tower, and the Beppu Tokiwa Department store. The participants picked up a multitude of plastic bags, plastic and glass bottles, cans, and other garbage dumped carelessly throughout their designated area.

Commenting on the purpose of organizing this clean-up effort, the coordinator KAWAHARA Hidenobu (APM 4, Japan) said, "With the help of the Oita Godo Shimbun and the local community of Beppu and Oita, we successfully published the 10th Anniversary Special Feature. With this publication, we hope to thank the local citizens of Beppu and Oita who have directly or indirectly helped nurture the growth of APU since its birth 10 years ago. We planned this clean-up initiative to further emphasize our commitment to the region and reinforce our message to the local community that APU remains committed to working towards bringing about changes in Oita and Beppu for the future of the region".

A local citizen and participant in the clean-up project spoke of his impressions of the program, "It is good to see that APU is working towards creating an environmental-friendly and cleaner Oita region. This was a great opportunity to get to know more about APU students and the efforts they continue to make to promote regional unity".
Reporter, Student Press Assistant (SPA): Joshi Ratala Dinesh Prasad (APS3, Nepal)