On Friday, June 11, 2010, the Chinese Week "Grand Show" was held at the APU Millennium Hall. APU Students, professors, and staff of diverse nationalities, as well as local Japanese citizens gathered together to witness the phenomenal performance. It was a full-house event, with the audience enjoying every bit of the show that marked a spectacular end to the season's first Multicultural Week.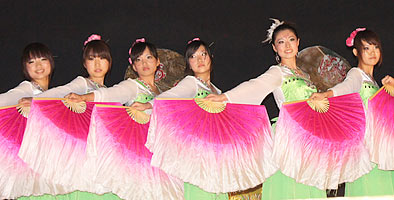 The theme for this year's show was the "Adventures of the Monkey God", featuring the story of "Genjo Sanzo" (Hsuan-tsang, a 7th century Buddhist monk), and his journey along the Silk Road to India, on his quest to retrieve authentic Buddhist scriptures. He set off with his three loyal disciples, and encountered numerous cultures along the way.

The show portrayed intriguing aspects of the 5000 year old Chinese history and culture. Featuring traditional musical instruments and dances, a stunning 'Kong Zhu' performance (Chinese style yoyos), 'Wushi' performance (lion dance), the dance of 'Guanyin' (the thousand-armed Goddess of Mercy), traditional martial art displays, and other entertaining performances.

The event was well managed and coordinated and each performance drew an amazing response from the audience. ANANDAGODA Channa (APM 1, Sri Lanka) expressed his views on the show, "It was my first time to experience a multicultural week performance at APU and it was simply awesome! I enjoyed the traditional and modern dances, the dance of the thousand armed goddess and also the Kung fu performances".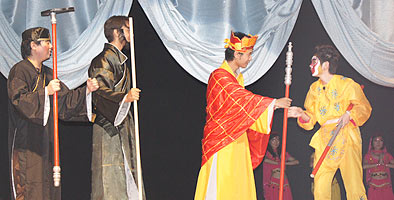 One of the main organizers of the event, BAI Jingyuan (APM 3, China) reflected on the performance, "I thought the performance was just amazing. I want to say a big thank you to the participants – without their enormous effort, I'm certain that Chinese Week couldn't have succeeded. I know that there were a lot of people who waited outside the Millennium Hall at about 5 o'clock in the very hot weather, but thanks to their cheers of support, the performers were able to put on a great show. Thank you all very much!" A total of 170 participants (including 50 non-Chinese participants) took place in the show and each played their part in making Chinese Week 2010 a great success.

Here at APU, we aim to uphold the ideals of a truly multicultural society. With students from over 98 different countries and regions, Multicultural Weeks are held every year and aim to encourage students to share their own cultural uniqueness, and to develop a holistic view of the world and its diverse cultures. The second multicultural week for this season, Vietnamese Week, runs from June 7 until June 11.
Reporter, Student Press Assistant (SPA): SETHURAM Shyamala (APM2, India)