On Saturday, June 12, 2010, 20 students visited Yabakei in Nakatsu city to engage in regional exchange and learn about Japanese food culture by planting rice. This year, 14 international students from Bangladesh, China, Indonesia, and the United States joined 8 Japanese students on the tour.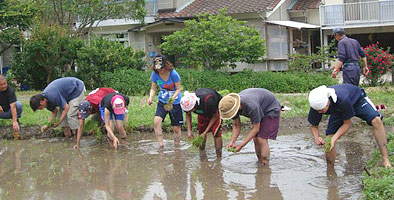 The trip was sponsored by the Co-op and planned by the Co-op Steering Committee, a body comprised of Co-op staff and APU students. This was the 7th rice-planting tour the committee has run. The student participants had some trouble with their first rice-planting experience, but under the careful guidance of local farmers they successfully planted their paddy while getting covered with mud. After the rice-planting, everyone enjoyed a lunch made with local ingredients. Some of the international students engaged in a lively discussion on agriculture with the local residents.

One participant, DONG Zhangwen (APM2, China), commented on the trip: "This was my first time to try rice-planting, and through my interactions with the local residents, I learned about Japanese agriculture. It was a great experience."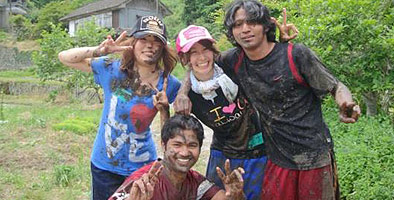 Co-op Steering Committee member NURUL MD. Amin (APM3, Bangladesh) reflected on this year's event: "This is my third time to participate in an agricultural event. These events are not only enjoyable, they are great opportunities to learn about agriculture from the local residents. In the future, I want to introduce Japanese technology into my home country in order to boost food productivity. I will continue to participate in events like this one in the future, and I hope to deepen my understanding of Japanese agricultural technology."

The mochi rice that the students planted this year will be harvested in October during the Co-op's scheduled "Rice Harvesting Tour". The Co-op plans to use this rice for a student mochi-pounding event to be held at New Year's.

The Co-op Management Committee (CMC) has been active since 2008 and aims to deepen connections with the Co-op and get involved in Co-op development from a student point of view. The Committee provides a range of support for Co-op hosted events such as rice planting and harvesting, rice cake making and Campus Health Days. They have also conducted nutritional surveys, assisted in the development of a new cafeteria menu and participated in exchange with other universities.