On Saturday, June 12, 2010, the "2010 World Festival: We are Citizens of the Earth-Harmony in Differences-" was held. This festival is the largest AP House event with elaborate displays by the approximately 1100 dorm residents from around 90 countries and regions split into 32 groups for each floor. This was the 4th World Festival held since its inception in 2007. The event is planned and operated in a collaborative effort between Resident Assistants (RAs)-the student staff who provide day-to-day support in the dorms-and AP House staff.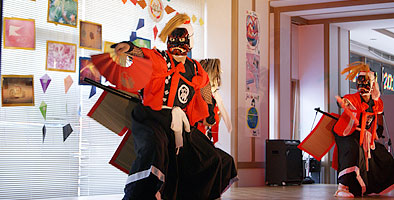 The main stage featured song and dance performances by dorm students and an imitation of "Britain's Got Talent" called "AP House's Got Talent". There were also performances by APU traditional arts clubs and RAs as well as a raffle. Inside the building there was a photo exhibit of ethnic dress and a haunted house. Participants could enjoy a range of world foods from Korean tteokbokki to Thai spring rolls in the dorm courtyard.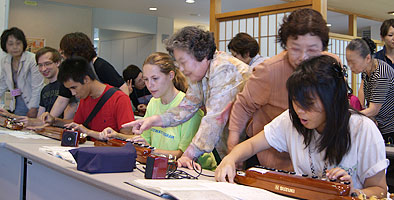 This year, local residents were invited to give lectures to students on Japanese calligraphy, Taisho koto, Japanese dance and other traditional Japanese arts. For many of the international students, it was there first time to hold a brush or try on a kimono. It was an excellent opportunity for them to experience Japanese beauty firsthand.

RA and event representative KUSANO Keita (APS3, Japan) discussed his future aspirations as follows: "The appeal of the World Festival is how it transcends barriers of nationality, culture and age to unify AP House residents from various countries and regions. Next year I want to hold more diverse displays and make the World Festival a more appealing event than it ever has been."
Reporter, Student Press Assistant (SPA): HIRABAYASHI Hayato (APS2, Japan)