On September 2, seven members of the APU Women's Athletic Team ran in the 13th Road Race for Kyushu Universities. The five kilometer race was held at Umi-no-Nakamichi Seaside Park in Fukuoka City. Mary Wachuka MWANGI (APS 1st year, Kenya) took first place in 16 minutes 50 seconds, HAMADA Minako (APS1, Japan) came sixth in a time of 17:38:00 and USAMI Yuko (APS2, Japan) came eighth in a time of 17:48:00.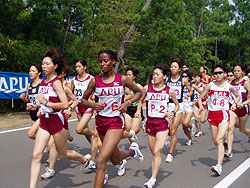 This race doubles as the Kyushu preliminaries for the 23th Japan Inter-University Women's EKIDEN (Road Relay) Championships. The top six finishing times of each University are used to determine ranking. First and second place Universities qualify for the Ekiden Championships.
APU managed to achieve second position with a finishing times totaling 1 hour 47 minutes 35 seconds, making this the fifth consecutive year that APU has qualified for the Ekiden Championships.
The team is determined to use the disappointment at finishing 2nd in this race as a catalyst for a good performance in the National Competition.
We kindly request for your continued support.
(Finishing Times)
Ritsumeikan Asia Pacific University 1 hour 47 minutes 35 seconds (2nd place)
Fukuoka University 1 hour 47 minutes 30 seconds (1st place)
The All Japan Intercollegiate Women's Ekiden Championship will be held this year on Sunday, November 27. The race will start and finish at Sendai.