From Tuesday, August 3, until Saturday, August 7, 2010, the APU World College Experience 2010 was held at APU. Inviting twenty-four high school students as 'cultural ambassadors' from Thailand, Vietnam, Indonesia, Taiwan, Korea, the USA and New Zealand, the program offered participants the opportunity to experience student life at APU.




During their time at APU, the students took part in a range of activities including lectures, workshops and cultural exchange events. Of particular note was the Japanese Cultural Workshop held on Wednesday 4th. Lead by TAYLOR, Clevis Necol Jr. (exchange student, USA), members of the Wadaiko "Raku" Japanese drum troupe gave a powerful display before inviting the high school students to have a try on the practice tires and then softly on the taiko drums. Clevis TAYLOR offered the students a few pointers and said, "Playing the taiko requires a lot of concentration, rhythm and strength, but with enough practice, I'm sure you can master it". During there stay, the group also enjoyed a Japanese tea workshop and viewed the spectacular 'Funai Pacchin' lantern festival in Oita City.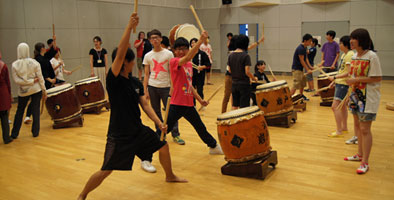 One of the participating high school students, Gabby RYDA (New Zealand) spoke of the experience and her goals for the future, "I have really enjoyed my time here. It was a great opportunity to see first-hand a taiko performance and learn about Japanese culture. My father is a diplomat and I'd love to follow in his footsteps and study international relations in an environment like APU".

In the hope that they will serve as a bridge linking Japan with their home countries, the students were presented with the title of "APU Student Ambassador". Let's look forward to seeing some of the students back on the APU campus as regular students in the future.