On Friday, July 23, 2010, members of the APU Kickboxing Circle took part in a kickboxing tournament held at Beppu City's Spa-Beach.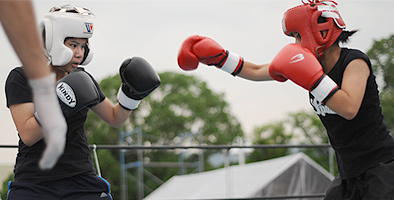 Two local children performed a Thai traditional dance before declaring the tournament open and the bouts got underway. Appearing in six of the eleven bouts, APU Kickboxing Team members recorded three victories, one loss, and one draw. The bouts proved popular with the large number of people from the local community who came along to enjoy the rare opportunity to enjoy a kickboxing display.

APU Kickboxing representative, TANAKA Kenji (APM2, Japan), reflected on the performance, "Kickboxing tournaments are held very seldom in Kyushu so being able to participate in this event was a great opportunity for us and I think we managed to post some great results. In the future we hope to continue working hard in our training with greater self-awareness and provide information to the community so that more people will become familiar with kickboxing. We hope that this will lead to more appearances at tournaments and a greater contribution to the community".