Fifteen public officials from around Asia representing departments such as the Ministry of Rural Development and Ministry of Trade and Labor, came to APU for a JICA-commissioned training camp from June 15 to July 1, 2010. The training was titled "Community Capacity and Rural Development Promotion for Asian Countries - One Village One Product (OVOP)" and included trainees from Armenia, Cambodia, China, Laos, Mongolia, Myanmar, Pakistan, Thailand, East Timor, and the Philippines. This training was not focused on specific technical guidance, but rather on the concept of "community capacity development". The goal was for trainees to be able to introduce the OVOP Movement as a policy in their countries and develop systems for its effective implementation.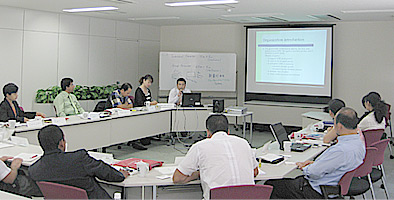 In addition to lectures covering theory, evaluation, and case studies of community development, trainees participated in lectures and on-site visits in Oyama-machi and other locations around Oita Prefecture. They were also able to hear about Beppu Hatto Onpaku and experience the program first-hand. After this, they stayed at Japanese-style inns on Himeshima Island, where they could experience and learn about various initiatives on the island, such as the local government's philosophy, activities of the Women's Association, and development of tourism.

Mr. NORASINGH Xaysomphet (Division Director, Economic Research Institute for Trade Ministry of Industry and Commerce, Laos) gave his thoughts on the training by saying, "I think this course provided a lot of knowledge and skills to me. I learned a lot and it made me understand how community development works. Of course we cannot apply all that we learned to our country, but we can adapt it to suit our country. I will apply this course back to my country for sure".

Since being commissioned by JICA in 2006, APU has received program trainees from all over the world. A similar training program took place in July for public officials from Chile.