On Friday, July 30, 2010, the 2nd RU & APU Joint-Symposium was held at APU. Inviting twenty-six students from the Ritsumeikan University (RU) Graduate School of Science and Engineering Overseas Education Program and APU Graduate Schools, the symposium offered participants the opportunity to work together and discuss critical issues facing the world in the 21st century.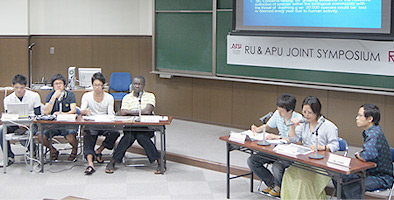 Dean of the Graduate School of Asia Pacific Studies, Professor Jeremy EADES, initiated discussions with a key-note lecture entitled, "The Rest of the 21st Century: Threats and Promises". Following this, students were divided into six mixed groups and given the task of preparing a group presentation based on the key areas covered in the keynote lecture such as climate change, balancing population growth and limited resources, energy demands, scientific innovation, global biodiversity, and the eradication of poverty.

A Q&A session followed each of the group presentations providing the opportunity for opinions to be raised by APU and RU students and faculty members. A hot debate unfolded on the topic of the earth's capacity to meet future development and the gaps between developed and developing countries.

At the conclusion of the group presentations, Professor EADES gave his feedback and spoke briefly about the past agricultural, industrial and green revolutions in human development and also of the next important stage in human development - a revolution towards sustainability. A reception followed the symposium allowing participants the opportunity to further their discussions.

A tour of the hot-spring town, Yufuin City, was also held for participating RU and APU students on Saturday, July 31. The next stage of this program will see APU students visit Ritsumeikan University this December for yet another joint symposium.
Reporter, Student Press Assistant (SPA): Dimithri Dveinda Jayagoda (GSAM 1, Sri Lanka)