From Friday, July 9, the 9th "Asia Pacific Forum for Graduate Students Research in Tourism" was held at APU. Running until Sunday 11, this forum invited approximately eighty students from thirty-two graduate schools in seventeen countries and regions. Entitled "Revitalization through Tourism", the event featured panel discussions, research presentations and more. Fifteen APU graduate students took part in this event.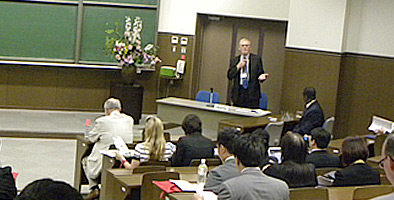 Now in its 9th year, the "Asia Pacific Forum for Graduate Students Research in Tourism" is held annually at a different university engaged in tourism studies at the graduate level. This is the first time the forum has been held in Japan.

Keynote presentations were delivered by Prof. Kaye Chon (Hong Kong Polytechnic University), Mr. TSURUTA Koichiro (CEO of New-Tsuruta Hotel, and Hatto Onpaku Representative), KIYOSUE Hiromi (Section Chief, Beppu City Onsen Tourism) and APS Dean, Prof. Jeremy EADES.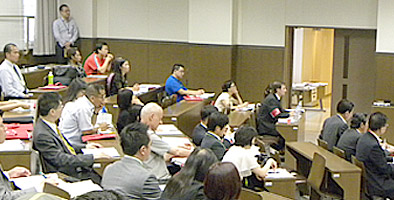 Following the keynote presentations, the participating graduate students delivered their research findings and were critiqued. During the closing ceremony, "Best Paper" awards were presented to Wakako Nagata (University of Hawaii at Manoa), Tsuguto Arai (Hong Kong Polytechnic University), and Tracy-Ann Hyman (University of Tokyo).

APU student circles "Yosshakoi" and "Wadaiko Raku" added a special touch to the proceedings with a powerful performance at the evening gathering. On the final day of the forum, thirty participants took part in a tour of the Myouban Hot-springs and the Jigoku hot-spring "Hells" and enjoyed first-hand the sights and sounds of Beppu's major tourist spots including some unique "hell-steamed" cooking.