On Friday, July 6, 2010, a group of ninety-four APU students took part in a Welcome Reception at Suginoi Hotel, Beppu City, held prior to the opening of the "APEC Growth Strategy High Level Policy Round Table" on the following day. Coming from 15 of the 21 APEC member states including China, Korea, Indonesia, Japan and Vietnam, the students served as interpreters, guides and attendants to the many local and international VIPs who gathered for the APEC conference.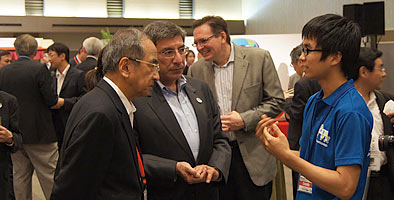 Present at the reception were local government officials including Governor of Oita Prefecture, Mr. HIROSE Katsusada; Mayor of Beppu City, Mr. HAMADA Hiroshi, members of parliament and representatives of local trade and industry. Representing their respective APEC countries were a large number of officials from a range of fields including government, trade, education and commerce.

During the welcome reception, APU students facilitated interaction between the participants utilizing their local knowledge and multiple-language skills and also introduced some of the local specialties and One Village, One Product goods. One of the APU student volunteers, WANG Jingyi (APM2, China), commented on the experience, "This was a great opportunity for me to meet and converse with so many government officials from Japan and my home country. It's fantastic that this event could be held in Beppu it was a great honor for me to introduce Beppu and APU to the VIPs and play a role in the APEC proceedings".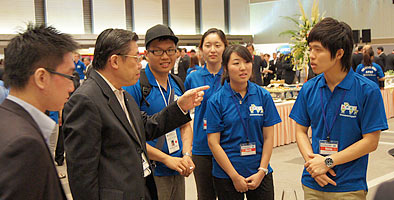 During the APEC Growth Strategy High Level Policy Round Table Commemorative Conference held on Saturday, August 7, four APU students, namely, RAUNGMETHANOPARAT Kriangkrai (APS4, Thailand), Hannah A. HUGHES (APM4, Australia), and Ayumi Kaneko Zepata (APS3, Japan) represented the four local universities that took part in the Student's APEC Meeting held prior to the APEC roundtable talks and presented their resolutions to Mr. NAOSHIMA Masayuki (Minister of Economy, Trade and Industry) and Mr. ARAI Satoshi (State Minister in Charge of National Policy). These resolutions were compiled during the Student's APEC Meeting.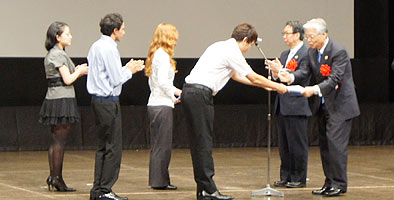 Another highlight for APU students was the special lecture delivered by Mr. Peter DRYSDALE of the Australian National University. Following his keynote presentation on August 7, Mr. Peter DRYSDALE, a current APU Academic Advisor, offered a special lecture with a group of APU students in which he talked about the origins of APEC, its achievements, reforms and future development.

This was a wonderful opportunity for APU students to not only interact with top-level officials from their home nations, but also gain valuable insights into the world of international diplomacy and trade. Let's look forward to many APU graduates taking up similar roles on the international stage in the near future.