On Friday 2 September, the APU Women's Athletic Team competed in the 13th Kyushu Intercollegiate Road Race held at Umi-no-Nakamichi Seaside Park in Fukuoka City. Seven members from the team entered the gruelling 5 kilometre race. Mary Wachuka (APS 1st year) put in a spectacular effort to finish first place well ahead of the rest of the runners in 16 minutes 50 seconds. Other notable performances from the APU team were HAMADA Minako (APS 1st year) who came in at sixth place with a time of 17:38"6, and USAMI Yuko (APS 2nd year) who finished eighth in 17:48"8.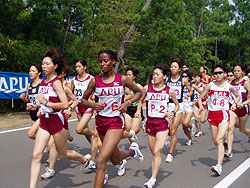 The Kyushu Intercollegiate Road Race is the elimination round for the All-Nippon Ekiden Women's Road Race, which will be held at the end of November in Sendai. In order to qualify the times of the top six runners from each university are calculated and the top two teams earn a berth at the All-Nippon Ekiden Women's Road Race. This year APU finished second overall. While it was unfortunate that APU lost out to Fukuoka University which took out the championships, an aggregate time of 1 hour 47 minutes 35 seconds allowed APU their fifth successive shot at the national titles.
Fourth year APS entrant OKAMOTO Mitsuki reflected on the team's performance:"The race was held 3 weeks earlier than in previous years in the lingering summer heat. But I think the team did really well. We were nervous going into the race because WANGARI Mary (who had won the All Japan Intercollegiate 5,000 metres) was not able to enter the race. However, we took her along for the race and we were able to achieve our desired results. As for me, I enjoyed myself and ran my own personal best time".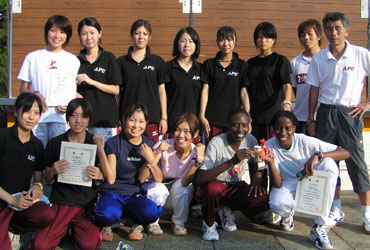 The team hopes to harness the frustration from their 2nd placing to strive harder at the national championships. We hope that every APU student and all the residents of Oita Prefecture can get behind the team and cheer them on at the All-Nippon Ekiden Women's Road Race to be held on Sunday 27 November in Sendai.