On Friday, September 17, 2010, APU welcomed 523 new students at the 2010 Fall Entrance Ceremony held in the Millennium Hall. A number of new undergraduate and students and family members were seen in full traditional costumes in what proved to be a truly international event.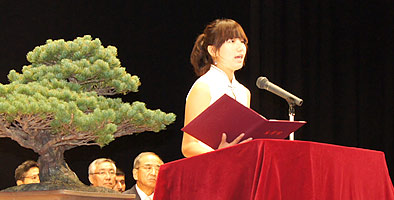 This Fall the University welcomes 388 undergraduate students from 54 countries and regions (19 domestic and 369 international), 82 graduate students (8 domestic and 74 international) and 53 short-term and exchange students (3 domestic and 50 international). The Republic of Rwanda is being represented on the APU campus for the first time.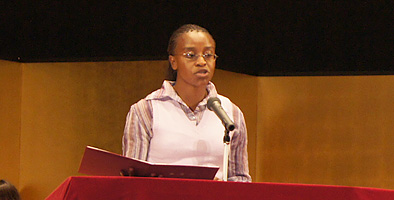 President KORENAGA Shun offered the students a welcoming address and a few words of encouragement: "Although created only 10 years ago, this university has evolved out of the students' initiatives and has grown together with our students. I encourage you to find what you really want to do in your life and strive to open the way to a bright future. No pain, no gain – no glory. Good luck for your academic endeavors!"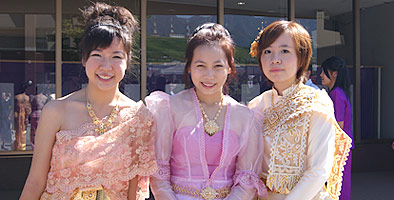 KAYAMA Yuta (APM3, Japan) spoke on behalf of the current APU student body, "I am sure that what we learn and put into practice here at APU – our world in miniature – will no doubt lead to the development of the world and ultimately to world peace. We, the student body, are what make APU the university that it is. In the growth of every one of us lie the next 10 years and the future of APU. Let us make history together; let's make APU the best university in the world! And let us create a better future for the planet".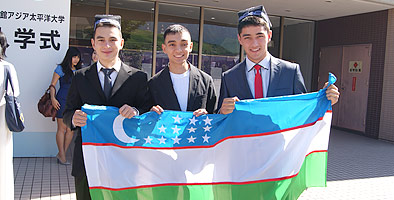 Li Binxue (APM, China) addressed the audience as representative of the new undergraduate students, "Each of us came to APU with a dream. I believe that I can lead a whole new life at APU and I'm certain that the University can help me enormously, not only academically, but also as a guide to help me realize my dreams. I hope that everyone here today will have the opportunity to realize their dreams".




Representing the new graduate school students, MAGODORA Kundai (GSM, Zimbabwe) said, "The knowledge I acquire at APU will greatly strengthen my professional and intellectual potential and undoubtedly broaden my career opportunities. But above all, I hope to leave APU ready to face international society having acquired great friendships and absorbed the best of Japanese culture. Armed with this knowledge, I hope to make a positive contribution to my country, Africa and the whole World".

Adding the final touch to the Entrance Ceremony, current APU students introduced a number of student circles through short performances in a show of support to the new entrants as they begin their new life at APU.