From Wednesday, August 25, until Friday, September 3, 2010, six members of the APU anti-child prostitution student circle "Sun Piccolo Project" took part in a study tour in the Philippines and visited local NGOs involved in volunteer activities supporting street children and the victims of child prostitution.



During their time in the Philippines, the group visited three Philippine-based NGOs, namely: the PREDA Foundation, TATAG, and the Konkokyo Peace Activity Center (KPAC). During their time with the PREDA Foundation, the students stayed in a guesthouse, met with local children, visited the homes of Trust-backed free-trade producers, and met with the Trust's founder. They also got involved in mango-tree planting with members of the local community. The group also met with staff from KPAC who gave them a briefing on the state of NGOs in the Philippines and the state of the Philippine government.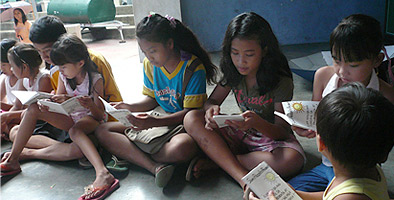 During their time with TATAG, the students took part in education programs for street children with TATAG staff members and experienced local awareness campaigns first-hand through simple games such as "Chinese whispers" and gesture games. The students also distributed copies of "Do you Know about Child Prostitution" - a pamphlet written in English and Tagalog that describes the spiral into child prostitution in an effort to prevent the spread of child prostitution due to a lack of information available to the public.

Circle representative, YAMAMOTO Shoko (APM3, Japan), spoke of her time on the tour, "this trip made it clear to me once again that what the children are in need of most is not material aid, but rather interaction with people". Tour participant, NAGAYAMA Takako (APS3, Japan) gave her impression of the local situation, "There is somewhere between one-hundred to two-hundred thousand NGOs in the Philippines which, in addition to the NGOs who are involved in real aid projects, have links to politicians and foreign monetary aid. It's a complicated situation. I really feel that it is important for us to see what's going on with our own eyes".

Established in 2002, Sun Piccolo Project currently has sixteen members working towards the eradication of child prostitution through study-tours and awareness campaigns both on and off campus. At the upcoming TENKU Festival (Oct 23, 24), the Sun Piccolo Project plans to hold an exhibition about their study tours and sell fair-trade recycled bags and accessories purchased from the PREDA Trust.