From Wednesday, August 11 until Friday, August 17, 2010, the "8th International Business Contest 'OVAL Beijing' 2010" was held in Beijing, China. Representing APU was HAYASHI Chie (APM3, Japan), the only participant at the event from the Kyushu area.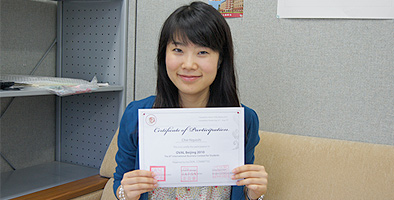 Centering on university students from Japan, China and Korea, the thirty participants from the three nations had to pass through two selection stages to attend this business contest, first an essay screening, and second, an interview and group discussion round. Working in groups of three, the participants worked together in English to develop new business concepts. Known in Korea and China as an event that can even influence your job prospects, this business contest continues to prove popular and receives many applicants every year. In addition to APU student HAYASHI Chie, participants from Japan included students from Tokyo University, Waseda University, Keio University and International Christian University (ICU).




The theme for this years contest was "internet businesses". Ms. HAYASHI's team presented their plan for a service industry concept that would deepen family relationships but unfortunately went down in the final round of the contest. The winning team proposed a social business to revitalize the fair-trade sector through the creation of a homepage that could provide consumers, charities and investors information about free-trade producers.

Ms. HAYASHI commented on her experience of the contest, "Together with students from China and Korea, we worked from early in the morning until late at night analyzing the market needs, the practicality of our concept, the details of our finances, and all the finer points of our business plan. My experiences of discussion-style lectures and the international environment at APU proved to be extremely useful when it came to discussions with teammates of different nationalities. There were of course times when we disagreed, but these were opportunities to experience our cultural differences and through spending time together, we were able to develop true friendships".

"Furthermore, everyday offered us the opportunity to get feedback from members of the working public which provided invaluable advice towards the creation of a more achievable business plan. Although we missed out on the top prize, I continue to have a great interest in making a contribution to society and seeing so many different business concepts from like-minded people has given me the confidence to work towards the realization of my dream. I hope that everyone at APU has the opportunity to participate in the OVAL program and experience the world".