On Sunday, September 5, 2010, a special Japanese cooking workshop was delivered by professional Japanese chef and Fukuoka restaurateur, Mr. Tomohiro MOTONAGA at the AP House II, house kitchen. A total of 16 students from six different countries and regions including Lithuania, Nepal and Sweden, participated in the program and had a go at Japanese cooking.



Entitled "Let's Learn Japanese Gourmet from a Pro", this special class was held as a fun event for students who remained at APHouse during the summer vacation. Hosted by members of the Co-op Student Steering Committee, this program was made possible thanks to the advice and support of Education Development and Learning Support Center Assoc. Prof, SHIN Kimie.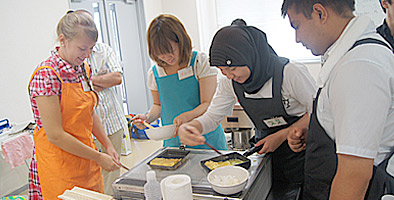 Under the guidance of Chef MOTONAGA, the participants tried their hand at Japanese cooking including preparing fish for sashimi, dashimaki fried egg, niku-jaga (meat and potatoes), and miso soup. The students also had a try at making matsu - a Japanese white-radish garnish - which required some very challenging katsura-muki knife-work. In addition to the opportunity to gain some Japanese culinary skills, the class also proved to be a great chance to learn about Japanese culture and tradition through food.

One of the event coordinators, NINOMIYA Ken (APS3, Japan) of the Co-op Student Steering Committee, reflected on the program "We held this event in the hope that international students from a range of different nationalities would experience making Japanese food and introduce Japanese cooking when they return to their home nations. It was great to see them enjoying themselves and getting so involved in the workshop". Soe Thura Hlaing (APS3, Myanmar) took part in the cooking class and spoke of his experience, "this was my first time to participate in such a cooking class and I really enjoyed learning how to prepare Japanese food in the proper way with the proper ingredients. It was a great learning experience and I gained a lot of practical skills".

Please click here for a video clip of the Cooking Workshop.
Reporter, Student Press Assistant (SPA): Joshi Ratala Dinesh Prasad (APS3, Nepal)