教育プログラム|連携事業
Sep 29, 2010

On Tuesday, October 21 and Wednesday 22, 2010, SANYO Electric, APU and Ritsumeikan University joined forces for the first session of the Global Business Leaders Development Program (GBLP). Held at APU, fifteen selected international students from APU and Ritsumeikan University took part in the program alongside ten Sanyo Electric employees.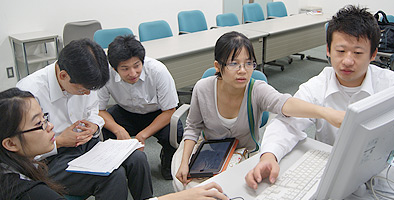 This human resource development program divided participants into mixed teams of APU, Ritsumeikan and Sanyo participants, and brought together suggestions put forward over the last four weeks regarding two of Sanyo Electric's recent business strategies. Through this group-work, Sanyo employees gained insights into the global perspectives of the international students, while the participating students were able to learn from workers on the front lines of society how to apply Japanese business models. The program made excellent use of the participants' different nationalities and viewpoints. This industry-academia collaboration with a focus on social science and human resource development is the first of its kind for APU and Ritsumeikan University.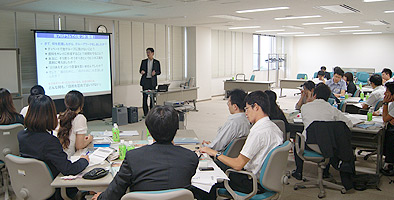 Session participant, CHEN LIN (APM4, China), spoke of her goals for the future, "I took part in this program to take advantage of the great opportunity to meet with Sanyo Electric employees and find out what qualities we need as working members of society. The two-day session of group-work, debating and research made me painfully aware of how much more work I need to put into my studies. I look forward to preparing for the next session in a months time".

The second session is scheduled for Friday October 22 and Saturday 23 at the Sanyo Electronics Training Centre in Shioya, Hyogo Prefecture. This session will invite participants to present their group proposals for two current strategic issues at Sanyo Electrics, namely "The development of solar-cell business in the Asia-Pacific and emerging nations", and "the development of household electronic appliances in emerging nations". Participants continue to make use of online tools and technology to share information in the lead-up to the next session.