On Friday, September 17, 2010, we interviewed a number of promising new APU students and asked them about their goals and aspirations for their time here. Here are their messages.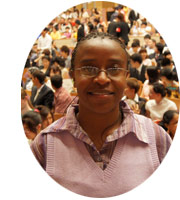 MAGODORA Kundai
(GSMM, Zimbabwe)
Japan was able to grow from nothing into one of the most influential nations in the world and I hope to achieve similar success in my own country, Zimbabwe. In Manufacturing, finance and much more, Japan has become a technological and economic giant and I hope to gain an insight into how Japan managed this success through the MBA Comparative Institution Design for Transition Economy and Business Management Program.


ENDO Takaki
(APS, Japan)
I chose to come to APU to improve my mind and spirit through class work and extracurricular activities alongside the APU international students from so many different countries and regions around the world. I was also greatly impressed by the relief efforts of APU students in response to the various natural disasters occurring across the globe. I look forward to studying and getting involved in volunteer activities and will work towards becoming a graduate with the qualities needed to make a contribution to the future of Japan.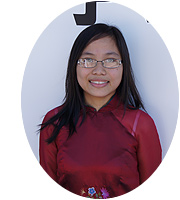 HUYNH Thai Minh Thuy
(APM, Vietnam)
I decided to enroll at APU because I love learning foreign languages and wanted to learn more about the business scene in the Asia Pacific region. During my time here, I hope to study finance, learn the Japanese language, and also take part in cultural pursuits such as the Japanese tea ceremony club. In the future I hope to work for a Vietnamese company with close links to Japan.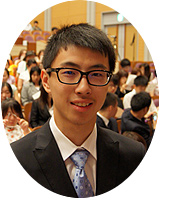 FU Cenchaojian
(APM, China)
I wanted to come to Japan because it is a centre for technology, science and business. I hope to gain a deeper understanding of Japanese finance and business practices, study the Japanese language, and make lots of new friends with people from all over the world. After I graduate, I look forward to working in a Japanese company before heading back to China and realizing my dream of becoming an international businessman.


Iesha MILFORD
(APS, USA)
I came to Japan in 2006 and had such a wonderful experience that I decided to come back. I was attracted to APU by its renowned Japanese language programs and the unique multicultural environment. Being able to study at APU has given me the opportunity to learn more about the language and cultures of the Asia Pacific region and I hope that this will enable me to work towards my dream of someday becoming an interpreter specializing in international relations.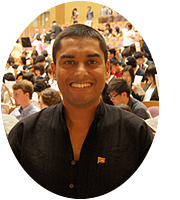 RANAHANSA DASANAYAKE
(GSAM, Sri Lanka)
I heard about APU last year from the former APU President, Monte CASSIM. He inspired me come to APU and enjoy its multicultural environment and solid curriculum content. During my time here I look forward to studying about renewable energy, environmental technology, and much more on the International Materials Flow Management (IMAT) program.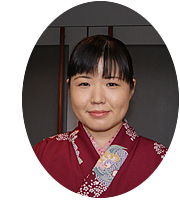 SHOSENJI Miho
(GSAM, Japan)
I have experienced working as a Japan Overseas Cooperation Volunteer (JOCV) in El Salvador and as a coordinator at the Asia-Pacific Children's Convention. I decided to come to APU to make the next step-up in my career and equip myself with more specialist knowledge about the international environment and international cooperation. I aim to become a graduate with the skills needed to work for the United Nations or an international non-government organisation in the future.