In order to promote the upcoming 2005 World Students' Tourism Summit and call upon the auspices of the domestic and foreign media, the co-hosts - Ritsumeikan Asia Pacific University, Oita Prefecture and Beppu City - conducted a press conference at The Foreign Correspondents Club of Japan in Yurakucho in Tokyo.
On the day, 43 reporters attended from a range of domestic and overseas media affiliations such as specialized tourism magazines; and the Governor of Oita, Mr. Katsusada HIROSE, Mayor of Beppu City, Mr. Hiroshi HAMADA and Chancellor of Ritsumeikan Trust, Dr. Toyo Omi NAGATA initiated the Press Conference.
The Governor of Oita, Mr. HIROSE said, "I have great expectations that the summit will generate lively discussions about the future and direction of tourism, which is said to be leading industry of the 21st century."
Afterwards, the Chancellor of Ritsumeikan Trust, Mr. NAGATA in explaining about the summit program and workshops said, "This international conference on tourism will merge the experience and knowledge of prominent figures in the tourism sector with the power and unlimited potential of the current young generation of students gathered from all around the world. We would be delighted to have you join us for this unique event." The Mayor of Beppu, Mr. Hiroshi HAMADA also said a few words and talked about various exchange events that will be held in Beppu City throughout the summit period.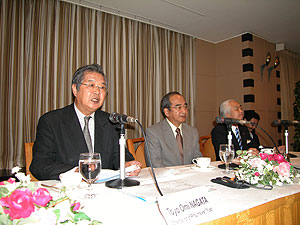 Representatives from the Summit Students' Executive Committee including the Chairperson, Ms. Yokomoto Kikumi (APS4) and Coordinator for Workshops, Mr. Tor Erik NYBERG (APM3) responded to the reporter's questions and talked about the significance of the summit for students to gather and engage in topical discussions.
Preparations are currently underway to welcome 175 students from 22 countries and regions and 50 universities, and 104 domestic students from 31 universities. Thirty-two students from APU will participate in the workshops and approximately 130 APU students make-up the Summit Students' Executive Committee
Students will commence their Tourism and Exchange Caravan Tour in Kyushu from Tuesday, November 11 and will convene in Beppu from November 11 to 13 for workshops and exchange events in Beppu City.
On the last day of the summit, a General Assembly will be held at B-con Plaza and the results of the summit will be announced.