On Saturday 8 October Cafe Gemuse reopened to help restore the Ekimae Koto Hot Springs. Gemuse is an APU registered organisation which operated a cafe between April and July on Ekimaedori (in front of Beppu JR Train Station) to help maintain the Ekimae Koto Hot Springs. This hot spring was constructed during the Taisho Era (1912 - 1926) however, due to the building becoming decrepit and not having sufficient earthquake resistance, the members of Gemuse decided to supply a portion of their profits for its restoration.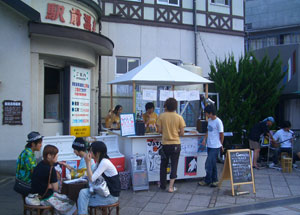 We spoke to one of the volunteers, HAYASHI Akio (APS 2nd year) about the fall reopening: "The purpose of (reopening the cafe) is to help restore Ekimae Koto Hot Springs in order for people to continue using it. This is not a matter of unnecessarily protecting old buildings – it is important that we assess their value and continue to make the necessary repairs while using them. There is no doubt that Ekimae Koto Hot Springs are valuable.
Our cafe is only opened on Saturdays however we have received a considerable patronage. A part of the sales will be allocated for the Koto Hot Springs Fund which totals 50,000 yen. We have also received 30,000 yen in donations made to our fund-raiser box in front of the cafe. We are also actively involved in using the media to heighten awareness of Koto Hot Springs. Our aim is to enjoy ourselves while realising our goals. We want to create a cafe that will be carried on by the younger students even if we quit; the reason being is that without continued efforts we will not be able to carry on these kinds of preservation activities".
The reopening will be from 10:00 on Saturday 8 October. The cafe will operate until mid-November (from 10:00 - 20:00). The menu will remain unchanged with Turkish beer; spring water coffee; hot cocoa; soup containing five different vegetables and bacon; pumpkin and corn pottage; and a selection of hot drinks. Be sure to visit Cafe Gemuse and check out the assortment of delectable items on offer.