Kyushu's largest Yosakoi traditional dance festival, the 13th Yosakoi Sasebo Festival, was held in Nagasaki Prefecture from Friday, October 22nd through Sunday, October 24th, 2010, and the 30 member-strong APU Student Circle Yosshakoi placed second in the Youth Grand Prix competition for university students.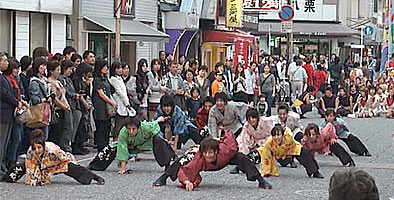 165 groups participated in the Yosakoi Sasebo Festival. They hailed primarily from Kyushu but included teams from as far away as Hokkaido and Paju, South Korea. The Youth Grand Prix, the competitive division for university students, was held on Saturday the 23rd, and 20 teams gave strong performances. The student team from Nagasaki University took first place for the second year in a row, while APU's Yosshakoi finished a close second.

Yosshakoi performed a new dance called the Jump Dance, which sought to evoke the international essence of APU with an original song that featured the Chinese ehru (two-stringed fiddle), the Indonesian gamelan and the Japanese shamisen. Former circle leader KONDO Kazuki (APS3, Japan) supervised the choreography, and after completing the music and dance moves at the end of September, members practiced intensively for about one month before the competition.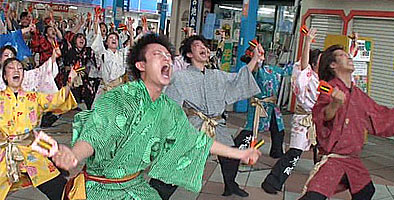 Yosshakoi leader OKAMURA Yukiko (APS2, Japan) reflected on the competition with the following remark: "This was the first time that a group with 30 or more members participated in the competition, and we are all very pleased with winning second place in the Grand Prix. Of course placing second was exhilarating, but getting to see students from other universities perform both motivated us and increased our group solidarity. We will continue to actively perform at major competitions and local events."