On Saturday (20) and Sunday (21), November, 2010, the 1st IAAPS Annual General Meeting and Annual Conference were held at APU. IAAPS members gathered here from around Japan and further afield including Korea, Hong Kong, Indonesia and Germany. The events gave members their first opportunity to meet in one place and share their research findings since the official launch of IAAPS and its journal, "Asia Pacific World" (APW) earlier in June this year.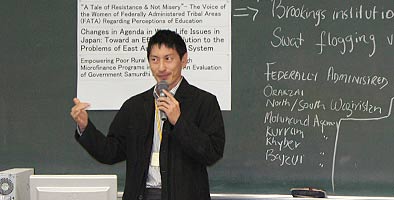 The Saturday 20 IAAPS Annual General Meeting began with opening addresses by Chairperson of the IAAPS Planning Committee, Prof. Malcolm COOPER and IAAPS Honorary Counselor, Dr. Kent E. Calder. The following agenda focused on Association regulations, the selection of founding APU President, Dr. SAKAMOTO Kazuichi as the inaugural IAAPS Chairman, and a call for submissions to the upcoming APW journal.

On Sunday 21, the 1st IAAPS Annual Conference "Outlook for the Asia Pacific" was held. Featuring oral and poster presentations. Researchers, graduate students and other academics from APU and other universities delivered their research findings to an audience of fellow graduate students and researchers. True to the philosophy of Asia Pacific studies, the presentations covered a variety of research areas including linguistics, humanities, social and management sciences.

During the Oral Presentation 2-B session, APU PhD candidate at the Graduate School of Asia Pacific Studies, HASAN. Eid-Ul (GSAPS2, Bangladesh) outlined his research methods and key findings of his study into the "Satoyama Landscape Through History: Stakeholders and Changes". He described the weakening relationship between the Satoyama landscape and local farmers, improved living conditions and government reform as contributors to the decline of the Satoyama landscape.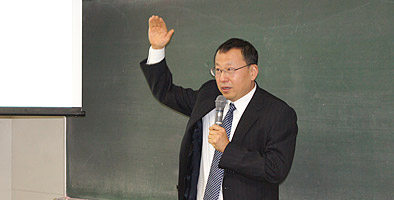 The poster session that followed featured 16 presentations on a variety of research areas including technology strategy in business organisations, financial reporting standards, food safety, linguistics, and more.

The IAAPS Annual General Meeting and Annual Conference provided a great opportunity for IAAPS-member students and researchers of Asia Pacific Studies to meet for the first time, present and exchange their ideas and get valuable feedback.

Established in 2010, the IAAPS aims to shape and promote Asia Pacific Studies. The Association also aims to be a centre of excellence that will accumulate and publish the results of research in particular disciplines and on sub-regions of the Asia Pacific. IAAPS is planning to publish the second edition of their new journal, Asia Pacific World, in spring 2011.
IAAPS website: https://www.apu.ac.jp/iaaps/
Reporter, Student Press Assistant (SPA):
Dimithri Dveinda Jayagoda (GSAM 2, Sri Lanka)