With the cooperation of the Sasakawa Peace Foundation, APU welcomed six high school students and three teaching staff from the United Arab Emirates (UAE) from Monday, November 1st through Saturday, November 13th for the "COOL JAPAN PROGRAM 2010" short-term program.


The aim of this program, which began last year, is to deepen mutual understanding between Japan and the nations of the Middle East because, while close ties have been developed through the import of natural resources, educational exchange has been limited. Students for this year's program were chosen from the Abu Dhabi and Al Ain campuses of the Institute of Applied Technology, a science high school specializing in advanced applied technology.

The group participated in the Nov 1-6 "Rits Super Science Fair 2010", this year's installment of an annual research presentation session sponsored by Ritsumeikan Senior High School for Japanese and foreign high school students and teachers, as the UAE representative. The group delivered a presentation focusing on nanotechnology and the alleviation of oil pollution and enjoyed interacting with high school students from 19 different countries and regions.

The group stayed at APU from Sunday, November 7th until Thursday, November 11th, where they took classes on Japanese culture, including anime and pop culture, and lectures entitled "Nanotechnology and Bioethics" and "Resource Management". They also met with local Oita Prefecture high school students at Saiki City Kakujo High School and visited an automobile manufacturing plant. The group stayed at AP House during their time at APU and had the opportunity to experience campus life. APU students were assigned as mentors to the students to provide them with support during their stay.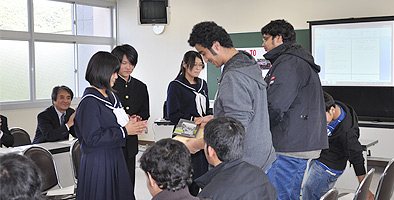 The group also traveled to Tokyo where they met with the UAE Ambassador to Japan and visited the INPEX Corporation.

One participant reflected on the program by saying, "I was impressed by the program lectures and meeting with Oita Prefecture high school students. It was also interesting to tour Beppu and see how the locals live". Another participated said, "I thought Japan was a hi-tech country, but thanks to this program, I learned about other aspects of Japan. It's not just a hi-tech country; it's also a culturally rich country".

There are currently 21 students from the Middle East studying at APU (as of November 1st, 2010). We hope to develop stronger ties with this region and look forward to more Middle Eastern students coming to APU and adding a new cultural aspect to our multicultural environment.