On Tuesday, October 26, 2010, representatives of APU and Tianjin No. 2 High School, China, signed an agreement to renew the APU Pre-Enrollment Course. Present at the ceremony from Tianjin No.2 High School were Principal, Chen Wenchang; Director of International Department, MaPing; Director, Wang Zonghe, and language teacher, Miao Yanping. President KORENAGA Shun and the Dean of Admissions, Prof. YAMAMOTO Susumu, represented APU.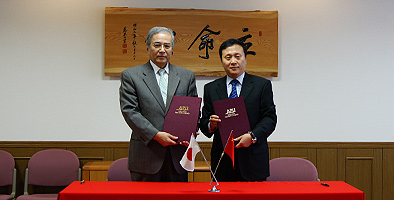 The APU Pre-Enrollment Course agreement with Tianjin No. 2 High School began in 2007 and was the first APU pre-enrollment course of its kind in China. The course was established to provide final-year high school students aiming to enter APU with Japanese language and support classes in addition to their regular curriculum. The renewal of the agreement reaffirms the results of this student-intake program and promises further development of the program in the future.

Established in 1947, Tianjin No. 2 High School enjoys a reputation for excellent teaching staff and outstanding academic achievements, and a number of its graduates have been accepted to some of the most prestigious universities in China including Peking University, Tsinghua University and Fudan University. In 2000, the Tianjin No. 2 High School International Department was founded and currently has students from Japan, Korea, Indonesia, Canada, Germany, and Australia learning Chinese and other subjects.

To date, APU has established pre-enrollment programs with three high schools in China, namely, Tianjin No. 2 High School, Tianjin Language School High School and Hangzhou Foreign Language School. With over 800 Chinese students on campus, APU continues to build a strong relationship with China. The university also hosts the Confucius Institute, the first for Kyushu, and provides opportunities for students and members of the general public to study the Chinese language and culture. In the past, APU has welcomed Chinese government officials for a campus inspection and APU and China continue to enjoy an active relationship of exchange.
Reporter, Student Press Assistant (SPA): MAO Zhewei (APM2)