連携事業|講演・シンポジウム
Dec 22, 2010
On Wednesday, December 8, 2010, the Kyushu Environmental Cluster Universities International Network Exchange Meeting was held at the APU Convention Hall. Inviting patent specialists, environmentally-focused business leaders and foreign staff members, the event included presentations, panel discussions and exchange sessions to promote mutual understanding between fellow students with an interest in environmental business development, and provide information to international students thinking about working for Japanese companies.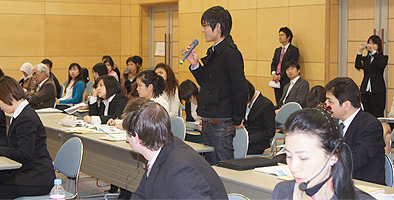 The event began with a keynote speech by Ms. KANETAKA Yoshiko, a patent attorney with Shinjyu Global IP, in which spoke about the state of Asia's intellectual property and its importance to global business. Representatives of four environmentally friendly companies namely, Shingo Denzai Co., Ltd., Honda Kiko Co., Ltd., Amita Holdings Co., Ltd. and Kukenreiki Co., Ltd., then introduced their companies and environmental friendly products with their respective staff members.

This was followed by panel discussions moderated by APU Dean of Careers, Prof TAKANO Kenji, under the theme of "What Kind of Global Employees are Environmental Businesses Looking for Now?". A lively exchange of thoughts and opinions then took place as the panelists, faculty members and participants actively joined the discussions.

In response to a question about the hiring of international students in his company, the President of Honda Kiko Co., Ltd., Mr. RYUZOJI Kensuke replied that "The key to survival in our industry is globalization. Globalization is a never ending process that requires good language and communication skills to secure our relationships with foreign companies. I believed that you, APU students, have great potential to succeed in globalized companies because of the strong language and communication skills you possess".

The event ended with a message from the Japan Patent Office outlining how it can help small and mid-sized enterprises. At the conclusion of the event, a small party took places that offered students and participants an opportunity to meet and greet with the guest speakers and exchange information. The event was well received by the participating students who were seen taking notes and keenly gathering around the discussion tables.

Started in 2008, the Kyushu Environmental Cluster Universities International Network Exchange Meeting is held at APU with the cooperation of the Kyushu Block Environment & Recycling Industry Exchange Plaza (K-RIP) The Kyushu Bureau of Economy, Trade and Industry, the Kyushu Industrial Center, and more.
Reporter, Student Press Assistant (SPA): VEGAFRIA Elaine Cruz(APM2, Philippines)